Howdy all, I am just in the process of degreeing in a new cam into my XR8 & can't get a closer spot than 2 1/2 degrees advanced or 3 degrees retarded, the cam is meant to have -27 degrees BTDC @ .050'' but because of the geardrive I am using I can only get 30 deg or 24.5 deg BTDC, has anyone experimented with the results of advance/retarding cams in a 302w. I feel that it would be safer to advance it, but I have only played with clevo's in this dept.
any advice from experience would be much appreciated
cheers kenny
here's a shot of my newly ported inlet port.
Attachments:
E7TE inlet port.jpg [ 60.48 KiB | Viewed 70 times ]
_________________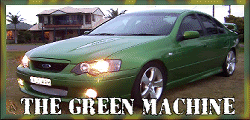 IF YOU HAVE IT UNDER CONTROL
YOU SIMPLY DON'T HAVE ENOUGH POWER!!!
Detroit 8V71 for sale, taking offers