well, I put mine to the test.
1st, a waste of time even bothering
2nd like it was on a wet road
3rd ,when the limiter cut in at 6700rpm it just felt natural
4rth, usually a good indicator of grunt, picked up rpm like it was on wet road, then hit limitor?
5th was next under normal conditions, so I gave it a go, and succeeded to hit the limitor once again
6th.......... the f**k clutch started to slip, but still had them going
So what you say? try that standing on the spot with a decent set of 245/40/ZR18''s in any "almost" standard car!
_________________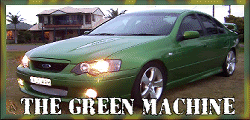 IF YOU HAVE IT UNDER CONTROL
YOU SIMPLY DON'T HAVE ENOUGH POWER!!!
Detroit 8V71 for sale, taking offers