Ben_Daui wrote:
xafalcon wrote:
1995 Mustang, originally 3.8 V6, now 5.0 with BTR auto and EB1 EFI system.

My work hack is an EB Fairmont Ghia 5.0 5 speed.
Which way is the 5.0L engine & EFI?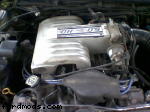 The Oz set up or the Yank set up?
Right hand side T/B.
Attachments:
Picture 280.jpg [ 96 KiB | Viewed 41 times ]
_________________
XA Faimont 351C, AU2 XR8 Manual 5.0, DA LTD 5.0, Mk1 Capri 5.0, 1995 Mustang 5.0, EF2 XR8 Manual, EF2 Fairmont Ghia 5.0, AU3 XR8 Auto, AU2 XR8 Auto, AU2 XR8 Manual Ute, TE Cortina 5.0 Manual, DU LTD 5.0 soon to be manual