I have scored an ea T5 in perfect condition, along with a genuine ford V8 T5 bellhousing for a very small fee, Now I need to work out what other goodies I will require to have a smooth box change without having to chase up parts on the day
So far I know I need
an extension pilot bush
3 bolt starter
thrust race/carrier
clutch cable
console surround for manual trans
Now for the things I am not sure about, The ecu, I hear you can use a resistor to fool the ecu to "think" it is always in gear.
I have a clevo steel flywheel and 11" clutch to suit the same spline ,will this fit or does the efi 5L use a "special" flywheel.
and finally will the auto crossmember fit, or does it need to be modified?
anyone who has done the conversion, tips will be greatly appreciated
thanks: kenny
_________________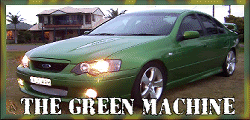 IF YOU HAVE IT UNDER CONTROL
YOU SIMPLY DON'T HAVE ENOUGH POWER!!!
Detroit 8V71 for sale, taking offers