I lowered the BA last weekend to aprox 10mm lower than the GT height.
but..... now I am having a few problems with hitting the mudflaps on big bumps a 100km/h+, the problem isn't the shocks being too soft, but just the actual size of the mudflaps.
Do the GT's use different ones, or do they suffer from this problem too?
I am just concerned that the skirts may be ripped form the car if I hit them too hard.
cheers kenny
_________________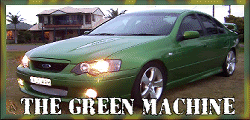 IF YOU HAVE IT UNDER CONTROL
YOU SIMPLY DON'T HAVE ENOUGH POWER!!!
Detroit 8V71 for sale, taking offers