Has anyone played around with a few different types of rear shocks on a BA XR8 or GT?
I keep colapsing the RH rear factory shock absorber and have decided its time to upgrade em, but with so many choices available its hard to pick whats best for me. I need to retain some comfort, but when it comes to the crunch I need them to firm up before the guts hits the road (as it now does occasionally).
I have been recomended monroe GT sports by the local parts distributor, but am unsure if its just cos he makes more $$$$
He said they are multi stage valved, & not dependant on ride height, and are short enough so they dont bottom out before the rest of the suspension?
they sound too good to be true, but if someone else has tried & proven them to be this good, the choice is made
cheers kenny
_________________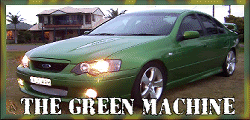 IF YOU HAVE IT UNDER CONTROL
YOU SIMPLY DON'T HAVE ENOUGH POWER!!!
Detroit 8V71 for sale, taking offers