I thought I'd share the story so far in case anyone else is considering this.
I bought the kit on ebay (where else)
THIS ONE
No affiliation and there are plenty to choose from, but this one was cheap (did I mention my Scottish heritage). The kit has the motor and drive gear, a s**t load of plastic things, the switches, wires and instructions (well almost).
The instructions are less than clear, but it's pretty straightforward. Just find the correct fittings for the winder sprocket then the appropriate profiled one that links to the motorised drive, fit the drive and motor in place and wire up, easy right!
Well I was buggered if I could find a place to fit the motor where it wasn't clashing with something, mostly the window or it's mechanism at some point in the travel. Here's a couple of pics of my eventual mounting point in the passenger door.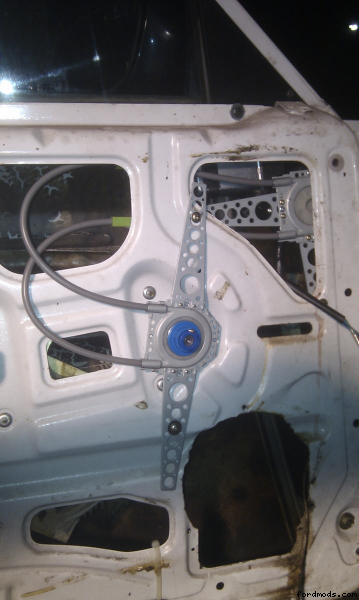 Not ideal as I wanted to keep the drive cable runs as straight as possible, but I just couldn't get it to fit. I'll be trying to make this better, but I'm not convinced that I can.
The kit has a bunch of pseudo self tappers that need a small (3mm I think) drilled in the door then just screw up tight, they seem to work ok, but I'd prefer to use something more robust and will ultimately change them some small bolts.
I ran it from a spare battery and it works fine, a little slow due to the window mechanism rubbing on something that I'll fix up later.
Decided to mount the switches on the centre console so I can reduce the wiring running to the doors and dispense with the need to have the extra switch to control the passenger door from the drivers side since I can easily reach both on the console.
Fitted the switches and ran some of the wires last night, but forgot to take pics.
I fitted a central locking system (universal aftermarket thing) a while back and the control box has a 30 sec -'ve output to close windows and I reckon I've got a plan using 6 relays and a couple of switches and some diodes (yes 6 relays) that will automatically close the open window(s) when I lock the car.
I'll update this as I go.
Comments, advice, flaming gratefully received.
Last edited by falcopops on Mon Jun 24, 2013 12:01 am, edited 2 times in total.