Price: $8,500
You will struggle to find a 97 EL Fairmont 5lt in better condition.
Go to this link to watch a video of the car idling -
https://www.youtube.com/watch?v=JnrqVQzo6sQ
More pics can be found on the gumtree ad:
http://www.gumtree.com.au/s-ad/mount-pleasant/cars-vans-utes/278rwhp-1997-ford-fairmont-sedan-v8/1070986524
Modifications:
- Pacemaker Headers
- Manta Pro Twin 2.5" exhaust
- Trickflow Top End Streetburner Kit (
http://www.trickflow.com/partdetail.asp?part=TFS-K514-350-370&autoview=sku
)
- Moates Quarterhorse
- Water Pump (replaced)
- Throttle Body
- Oil Pump (replaced)
- Ignition
- 3.45:1 LSD Diff
- Super Low Springs all round
- Stereo - Clarion head unit, 2 amps, 2 12" subs, new speakers front and rear
Dyno results just after all the above work: 278 rwhp, 525 rwnm torque. This works out to be about 207KW at the rear wheels. This is equivalent to about 330HP or 246KW at the flywheel.
All modifications are legal and approved by dept of transport in WA. The original engineers report and modification permits will be provided with the car.
New tyres (Goodyear Optilife 225/45/R17) were fitted less then 3,000kms ago, and come with a 50,000km guarantee, including free balance, rotation and pressure check every 10,000kms)
http://www.ktas.com.au/tyres/goodyear-optilife/
Car comes with a working laptop preloaded with software and license to enable direct tuning of the Moates Quarterhorse ECU. If you know what you are doing, you can easily tune the car yourself.
Car also comes with a shift kit. It allows you to adjust the speed of gear changes in the auto gearbox by simply turning a dial. I purchased with intention to instal, but did not get around to it. More info on this shiftkit:
http://www.shiftkits.com.au/index.php?main_page=product_info&cPath=13_1&products_id=3
I'll throw in the Haynes repair manual that is in great condition; and a set of upper and lower control arms (left and right sides) with as-new nolathane bushes (the guy that did my tuning had these in his car for a few months before deciding to do some radical upgrades to his car).
Geniune interested buyers only. I'm happy to assist with having the car shipped (at buyers cost) to anywhere in oz.
Attachments:
Engine Bay.jpg [ 101.12 KiB | Viewed 64 times ]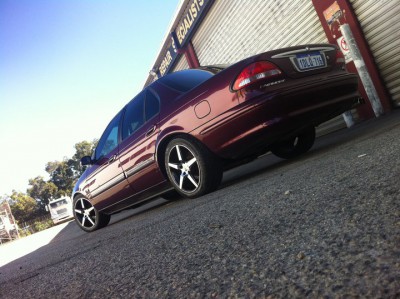 Fairmont 2.jpg [ 105.15 KiB | Viewed 54 times ]