Well, smashed my ED. So I bought this.
96 EF2 sedan in white.
Few mods.
Engine / Drivetrain:
Wade 977b
Ported and polished head
BBM port matched to head
JMM extractors
2.5" high flow cat
2.5" mandrel bent, single muffler exhaust
Dual dump tips
K&N panel filter
BA XR6T snorkel
Modified airbox with extra ducting etc
Top Gun 8.8mm leads
Manual conversion with braced pedal box and firewall
Exedy HD clutch
Short shifter
Manual ECU
Suspension:
King Lows all round
Pedders Sports Ryder shocks
Monroe GT Gas struts
Whiteline swaybar
Nolathane bushes
Camber kit
Exterior:
AU repeaters
B pillars painted black
Tinted windows
BA XR8 18 off my ED
Interior:
EL XR front seats
AUIII Momo
AU Momo leather gear knob
Black leather gear boot
Chrome handles from the ED
6" Response Splits
Kenwood 6x9's
12" Kicker sub
Coustic 4ch amp
MTX monoblock
Pioneer head unit
XR6 cluster
XR6 clock
Fairmont Ghia leather console lid
Plans for it are not a lot at this stage. Swap all the springs and front struts from my ED in, HID's, 3.9's or something in the diff, trip computer, completely change the sound system setup, new clutch cable, EBC Green / DBA slotted, bigger rims, leather interior. Just want it to look good, be relatively quick, and be comfortable.
Anyways, here's a couple of s**t pics from my phone.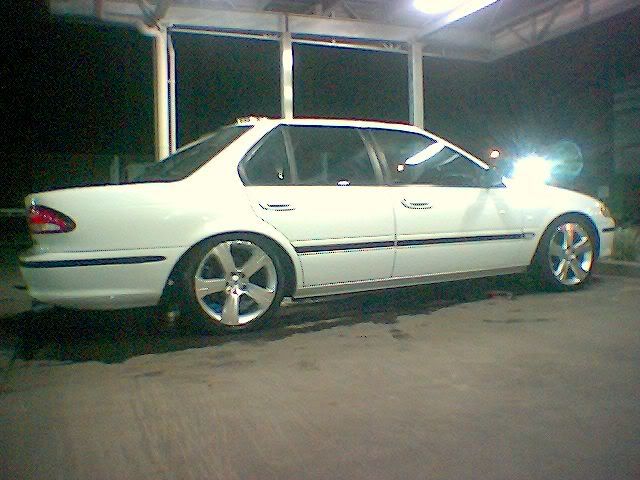 I'll get better and more pics soon.
_________________
RIP Chelsea
96 EF2 Gli - T5 / Exedy / Wade 977b / P+P / JMM Extractors, 2.5" / Port matched BBM / and more
bmICE
Last edited by braidy on Fri May 01, 2009 3:38 pm, edited 1 time in total.