Hey, bout time I made a thread for my EF, so here goes.
About 3 years ago now, I picked up a 1994 EF Falcon GLi, completely stock, right down to 15" wheels and hubcaps. It'd done the usual 200 odd thousand k's, and was in pretty good nick, but had some minor paint issues, picked it up for $800, I was pretty happy with it, and it only needed a couple of disc rotors and ball joints and a windscreen for RWC.
So I drove it for a few months, then it did the typical E Series headgasket trick, I pulled the head off, sent it away to be machined and pressure tested, and cleaned up the block and refitted. Seemed alright for a couple of weeks, then the head started pissing out HUGE amounts of oil. Doh, mustnt have cleaned the block properley, so I pulled the head off again, and cleaned it all up, and slapped it back on with some new bolts, and seemed fine. Great, got a working car, but then a couple of weeks later, I managed to hit a small tree in my mate's driveway, which damaged the front gaurd, bonnet and front bar, So I sourced a full EF Fairmont front end, including a couple of brand new headlights, was a darker shade of green, but didnt look too bad, so that was fitted up as is. It was around this time that I also picked up some FTR's with good rubber for a cheap price. So I drove it around for another 6 months or so, Until the oppitunity arose for me to pick up a hail damaged EL Ghia with a 5 litre V8 and no interior. So I got it towed back to my place, and the stripping began. The first thing I did was to fit the lowering springs, front grille, and cornering lamps from the donor car, and over 2 or 3 weeks (well, maybe a month) I changed it all over to a 5 litre, was a huge learning experience, and great fun. BIG job though, not for the faint hearted. Was great to hear the V8 roar into life for the first time. Made a huge difference to the perfomance, without too much loss of fuel economy. The 5 litre transmission however, was not 100% happy, and on my first drive, it blew off a cooler hose on the side of the road, and dumped all it's oil, doh, so I refilled it and managed to get home. It was stuck in limp mode for a couple of weeks, until I realised that the wiring loom that goes from the engine bay to the auto was stuffed, so I replaced that and suddenly it wasnt in limp mode, but it broke a few teeth off the speedo drive gear, and I had to pull the extension housing off to get it back out (fun) and it was leaking a fair bit of oil, so I have now sealed it up as much as I can, and poured in a bottle of stop leak, but it is still not 100% happy. I think the transmission will need some work at some stage. I managed to pick up another EL Fairmont Ghia, this time with a decent interior, and a 3.45 LSD diff, so I swapped over all the leather seats, power windows, passenger airbag dash, and of course the diff, Now I pretty much have a full fairmont Ghia interior, and the 3.45 LSD made a MASSIVE difference to the performance. My stereo system consists of a 12" 1000W Sony Xplod Sub, and a 1200W 4 channel audioline amp, and a Pioneer headunit, I have some Boston Acoustic S60 Splits for the front (still trying to work out the best place to mount the tweeters) and I have some Kenwood 3 ways for the rear.
Gab
After the Fairmont front end went on, this is one of the earliest pics I have of the car
6 cyl out (no it wasnt a tickford, just had a tickford rocker cover)
Empty engine bay
Me standing where my engine should be
5 litre donor car
Sexy new front end
5 litre out of donor car
Easy way to remove parts from the underside of donor car, put it on it's side !!
Removing K Frame from the donor car, pretty much a waste of time, but was fun
5 litre finally resting in the engine bay !!!
Dash going back in after the conversion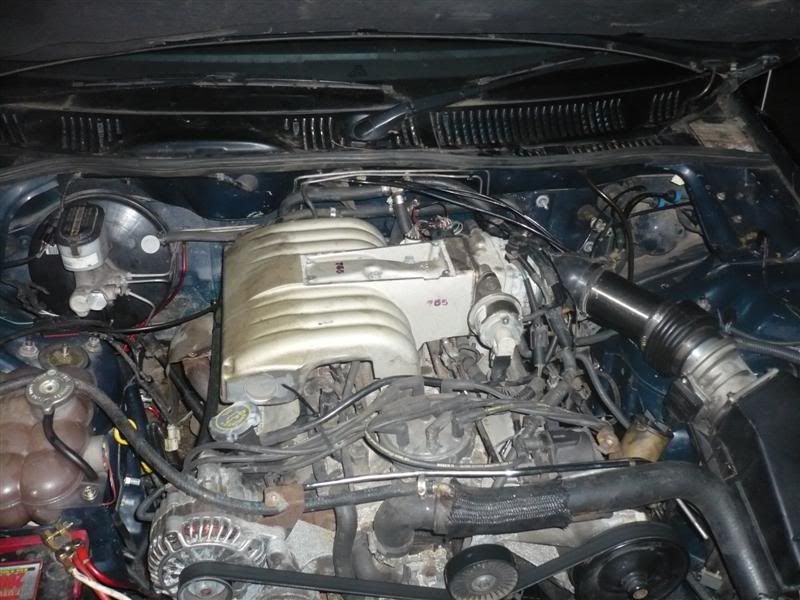 It runs !!!!
All neat and tidy
Last edited by Gab1 on Sun Jan 22, 2012 7:49 pm, edited 2 times in total.