Hi guys,
Thought I might put up a thread on my new race car build.
Plans are to race Motorkhana with it, and the occasional hill climb too maybe.
So, start with the background story.
My brother and I both used to race go-karts when we lived in Cairns, and stopped when I moved to Townsville. (2005) We have both since then been beyond keen to get back into some sort of racing. Karts would be fun, but I know i would really like to try some sort of car racing. The idea of motorkhana has always been appealing as it's as cheap as motorsport is ever going to be, and you can use a bog standard car for it.
Neither of us particularly wanted to race our road cars, or more accurately break them when something goes wrong (which it will eventually), so we have always put it off cause we don't have something to thrash.
Skip forward to a few weeks ago, and we were sitting around, having a beer, talking about how great it would be to get into racing again and we had a brain wave; why don't we just find something cheap and trailer it there? No rego, no d**k around, it should be cheap and if we break it it doesn't matter. I had a mate in mind, he had an old VN commodore sitting around...
Skip to the last weekend of March and old mate gives me a ring, I'd mentioned to him that I wanted it. "I'm moving house and it needs to be gone by Tuesday wether you take it or the wreckers."
I made him an offer of $200, cause he is a good mate. I figure split between my brother and I it's only $100 each, so about the same as a big night on the town, so not much in the big scheme of things. The cars battery died about 6 months previous, and he had just upgraded to a VZ R8 Clubsport (the joys of graduating from uni and getting the first real job
), so he just left it on the driveway and let its rego lapse.
Next day i went around to have a look. Pop the bonnet, check the fluids, "yep all there." Drop the battery from the EF into it and the alternator starts smoking with a terrible burning smell. Quickly pull the battery back out and stand around and look at each other for a while then get the courage to try it again. This time no smoke! On a winner, maybe it was just a cobweb.
Put the keys in the ignition, turned over and cooughed and spluttered... It sounded close, let's give it another kick. Second try off she goes!
So we went and bought a new battery for it (3/4 the value of the car for a new battery!!
) and drove it home (he only lived about two streets from me)
So, that's the background on the car. Now some good and bad points.
Good:
I've known this bloke since I was 11, and since he bought the car in 2002, so we have a full(ish) history and a good idea of how its been treated
New reco auto transmission about 3 years ago (shifts a lot better than some newer cars i've driven)
Newish radiator
Newish coil pack
Strong motor
Sub and amp - old mate was too slack to pull them out
Bad:
Rust around the rear window and C pillar - not terrible, but would struggle to pass rego
Brakes were seized solid after sitting
Two slow leaking tyres
Drivers door latch mechanism f**k - currently can only keep the drivers door closed by locking it
Rear passenger side door permanently close - opposite of drivers door
Front swaybar link pins buggered
Since we've had it, I've had it up on the stands and cleaned all the brakes up, work a hell of a lot better now that they are all unseized, and given it a good oil change. The oil in the gearbox is clean as, but i'd still like to flush it anyway, its going to have a hard life.
So next, for some pictures.
In the garage on stands: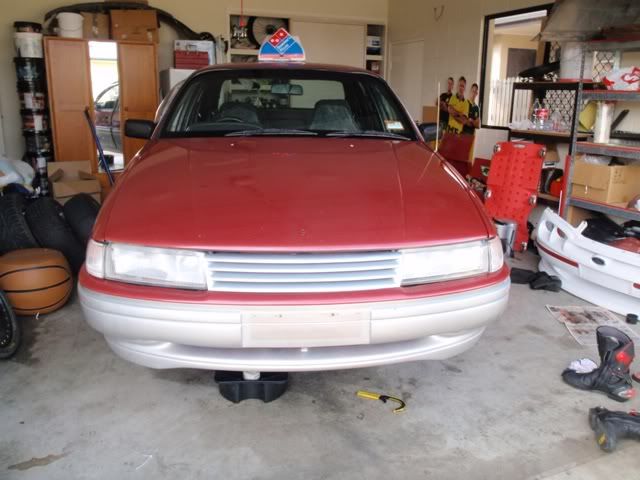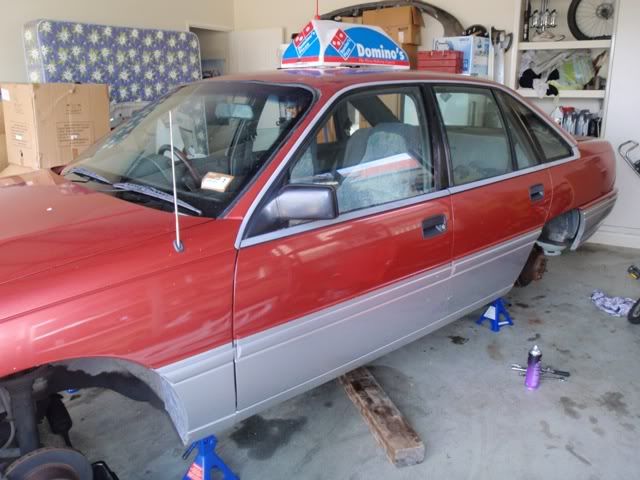 Typical VN taillights - one faded and one cracked!!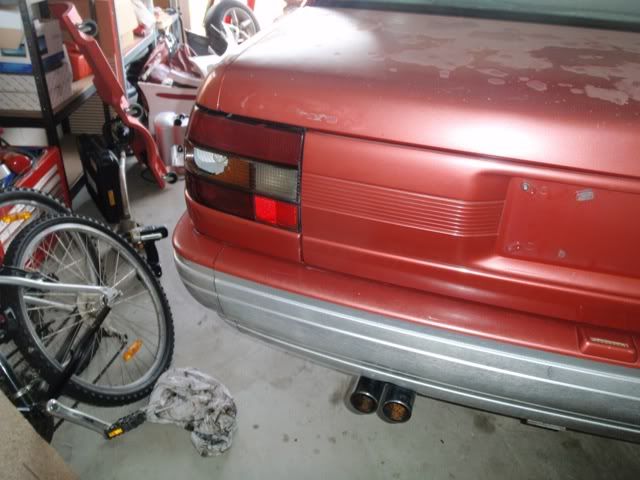 Interior:
Back on it's wheels - keen eyes will notice they are the same wheel and size as what I have on the EF
i must have a subconcious thing for TSW Stealth wheels.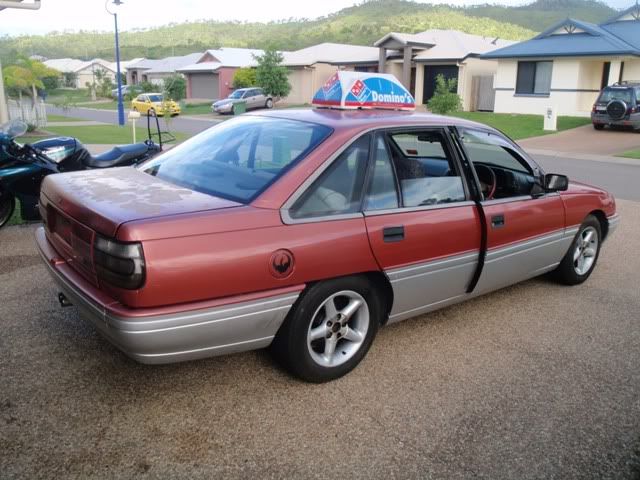 By now, some of you probably noticed the Domino's thing on the roof. Old mate was a store manager while he was at uni, so he gifted it to us with the car! It's definitely staying there while we race too!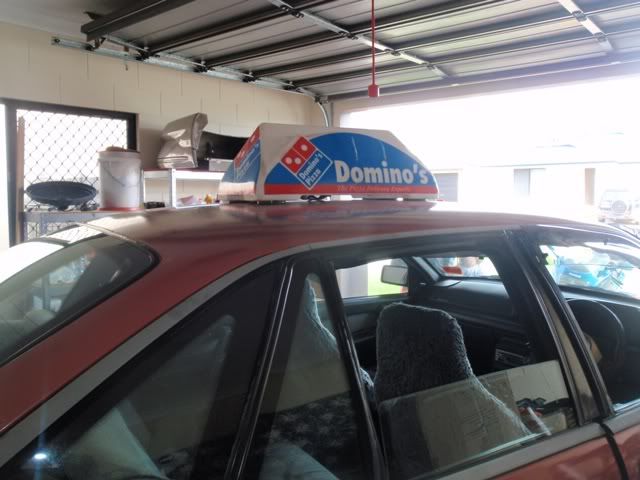 So all in all, I've already had a heap of fun with this thing, and between two of it so far its only cost:
Car - $200
Battery - $150
Oil filter - $7
Oil - $40
Brake cleaner - $9
The next thing is put a new link pin in for the front sway bar, and the comes the hard bit, organising a trailer to get it to the race meeting.
I'm going to call the club soon and see what else we need to race it, if there is anything special, but it all looks good to go. First race meeting we'll aim for is the 9th May.
Let me know what you all think