Hey guys when I got my license and was trying to fix up a camry for my first car that developed a very worrying noise from the engine, so when my mom updated her near dead ef I decided to drag it through to rego ran out, well I started my first job saving some cash to replace it. I ended up getting dead stock EF Fairmont to replace it. I just felt it was so nice to drive, and I knew what a hiding they take.
My dad found me this went and look at it and put a deposit down on it for me, when we went to pick it up we found the rego sticker was wrong so thinking we might've potentially be getting scammed we had to chase it up again, finding it was just the wrong rego sticker. When we picked it up I finally got a chance to get in and drive it I found the airbag light and low coolant sensor were on flashing with a piece of tape on the cluster hiding them.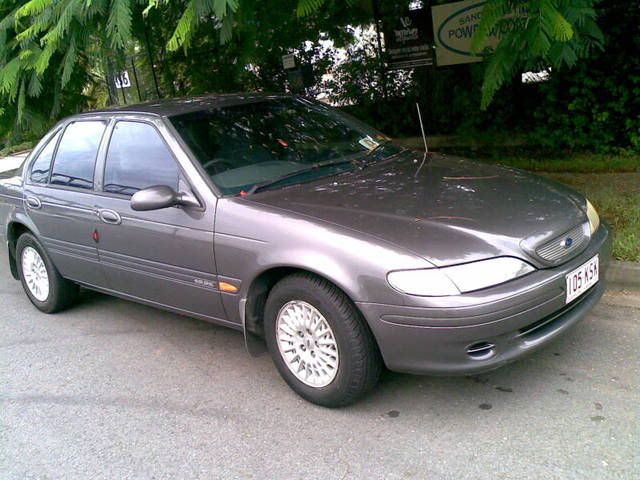 Completely stock other than the oldman reflectors on doors and one on the boots ford badge.
I started by fitting a bit of a audio system that I'd picked up just before.
2 x 10" subs, pioneer headunit, kenwood amp, pioneer rear speakers and a switch to turn off the subs on the dash.
along with a towbar for the bike rack.
and fixed up the yellowed headlight.
and a added a second cig lighter to hard wire in a phone charger which comes through the map pocket.
Next I scored a pair of fairlane chrome handles for 20, stoked on how they suit it.
then it went in for a service, and particularly a safety check as the roadworthy it came with must've been sure dodgey.
needed just about every filter done
my list was
needs a trans service
rocker cover gasket
coolant sensor
heater tap
tensioner belt pulley
and a brake bleed
I picked up a set of tickfords springs prior which i got coated up at work so I fitted the rears with some sensatrac shock before I started on the list from the mechanic. I found one of my shocks was actually cracked on the dustcap thing.
Anyways thats about all to tell so far, I'm hoping to do few more bits and pieces probably coat the rocker cover when i go to change the gasket to match the springs etc. I did the chrome and leather hand brake and put in a chrome shifter shaft, hoping to get a second car eventually as a real project but in the meantime I'll mess around with this.
_________________
Signature removed by moderator.signature must not exceed 120x500 pixles