HOW TO FIT BA DOOR TRIMS TO E-SERIES DOORS, part 3 !!!!
Well i had another crack at it this weekend, and yes i had a very successful day.... however it involves alot of work. Ill start where i last left off. For some of you who are doing this project you may be happy with leaving the rather large gap at the back of the door and finding a block or a piece of cut out plastic to fill it in, how ever i kinda wanted a flawless job and a snug fit, so i kinda went to extremes here.....
Call me crazy or call me a guiness but i couldnt bare spending another minute trying to make the BA trims fit, and i really wasnt wanting to resort to EL ones as the BA dash sits pretty nicely and it would look a bit out of wack... so a light bulb went off in my head, i drove down to a local wrecking yard and picked up 4 Ford Au doors (as some may know AU doors are pretty much the same as BA ones besides 2 holes that have to be drilled in for the 2 screws in the door trim arm rest handle thing) any ways, i picked up 4 doors and started with the drivers door to see how it would turn out:
This little project requires time and patients, if you have neither i wouldnt bother attempting it, also you will need to get your hands on a welder and a few basic cutting tools like a air hacksaw, grinder, sanders... ect. If you carnt afford to have your e-series car off the road for a while then i would suggest picking up some 2nd hand doors for your model and taking your time cutting them up. Also be prepared to spend a long long day just on one door. Now with my AU door (or BA one, what ever you can pick up cheap) Iv done a quick check to make sure the BA trim sat nicely, now that all is good the execution can begin:
I started unpicking any necesary spot welds with a drill (in the end i think i didnt really need to) then i cut out the inside plate where the door trim sits on, and make sure you cut out more then you need, we can trim up any excess bits we dont need later on, check out the photos and youll see what i mean: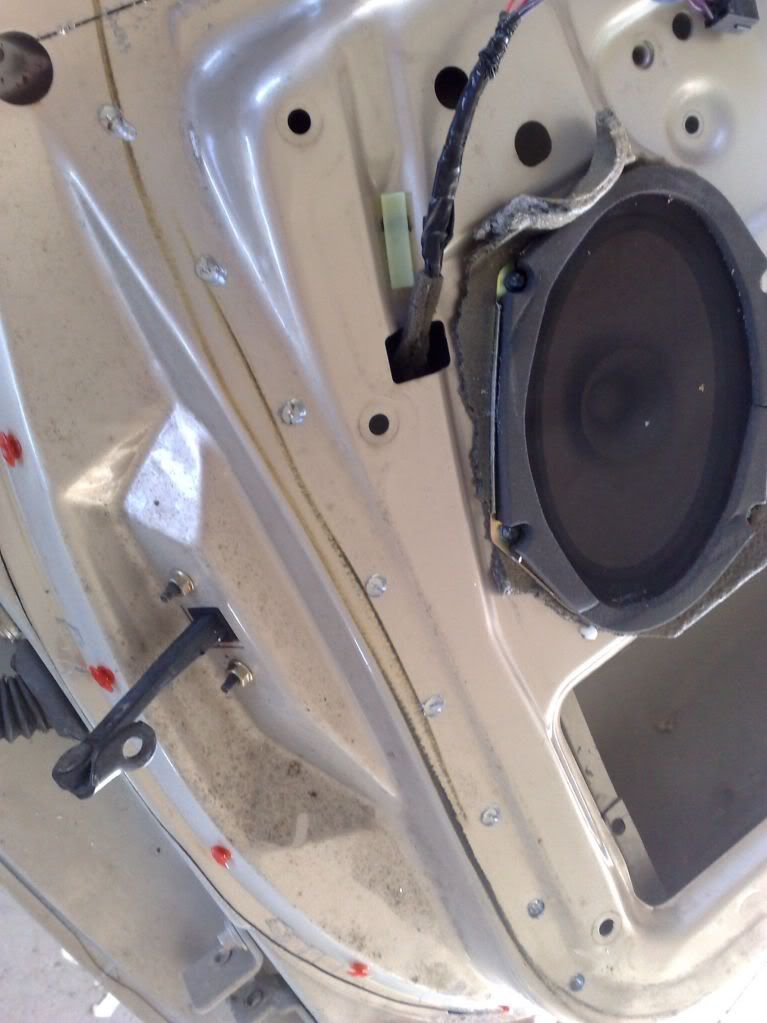 Now this is what you should have left over from the AU/BA door, just to give you an idea (let me guess, do i have a few confussed faces of what i am doing?????):
Heres the part that you need to have, pretty much you can bin the rest of the AU/BA door. Also i have just neatly trimed up a few bits, you can do this by sitting this piece up against your e-series door and having a quick scoop of what you dont need, if your confused then just follow the photos:
Now its the e-series door to go under the knife... cut out a appropriate size piece like in the photos, dont go to large just try and keep the job as small as possible:
With a couple of vice gribs a quick check of how things are lining up with the new piece at home:
A quick nip and tuck at the top back corner to make the new piece fit: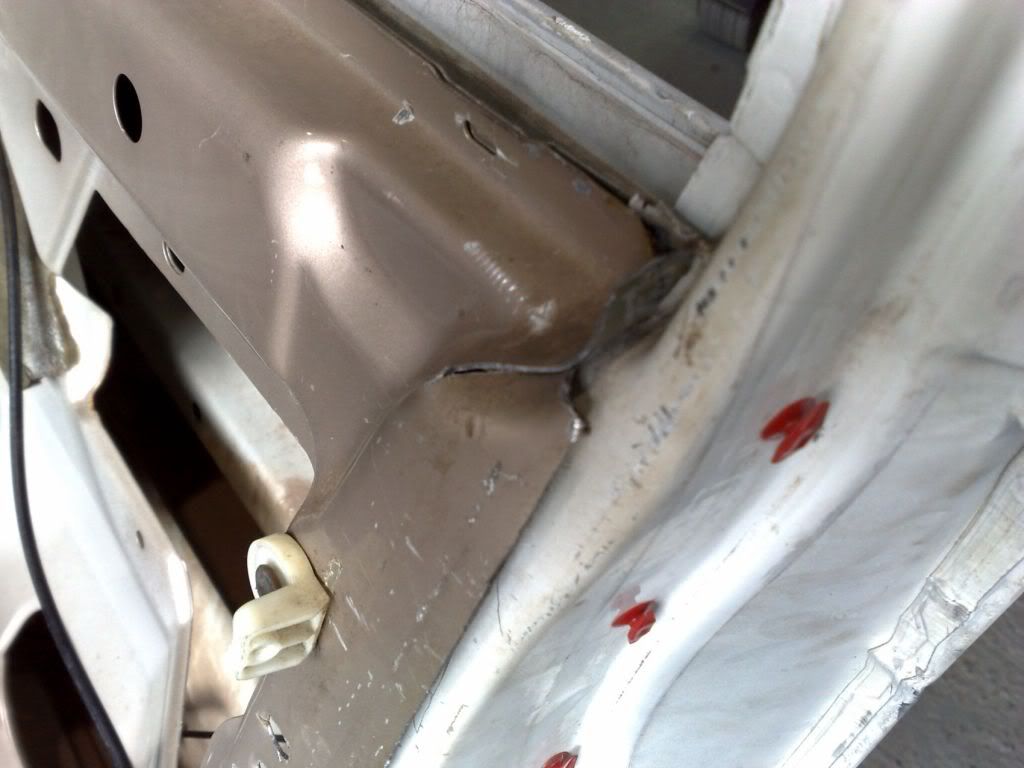 Now with the new piece you kinda want it slightly bigger then the piece you cut out on the E-series door. That way you can have the new piece over lap it and then you can cut threw both pieces and have a perfect fit. So what iv done is added some self tapping screws and screwed the new piece in place where i wanted it... refer to pic:
Before we do the final cut i do a quick check to make sure the trim looks good on it, it opens and shuts fine:
A shot of the inside of the car, the trim sits FANTABULIS and i dont have a giagantic gap at the back no more, YAY:
I start by hacksawing threw both trims, leaving it to be a perfect fit, this will allow me to but weld the 2 together, some people may leave the AU/BA piece overlap the door and weld it on, THIS IS A BIG NO... give it a year or 2 and there will be stacks of rust from water and moisteur getting trapped in the overlap. If you want a job that last and will look fantastic then take the time to do it properly:
Now iv used a BRASS welder, this helps combat any rust from behind the door as some of you may know brass wont rust, this is no dearer in price compared to normal steel i believe, and you could hire out a welder from BOC or some where like that and weld all your doors up in one weekend providing you have them all cut out and ready to go, the reason i tack the piece on is to do a final test to make sure the trim sits right and the door open and shuts... best to be safe then sorry: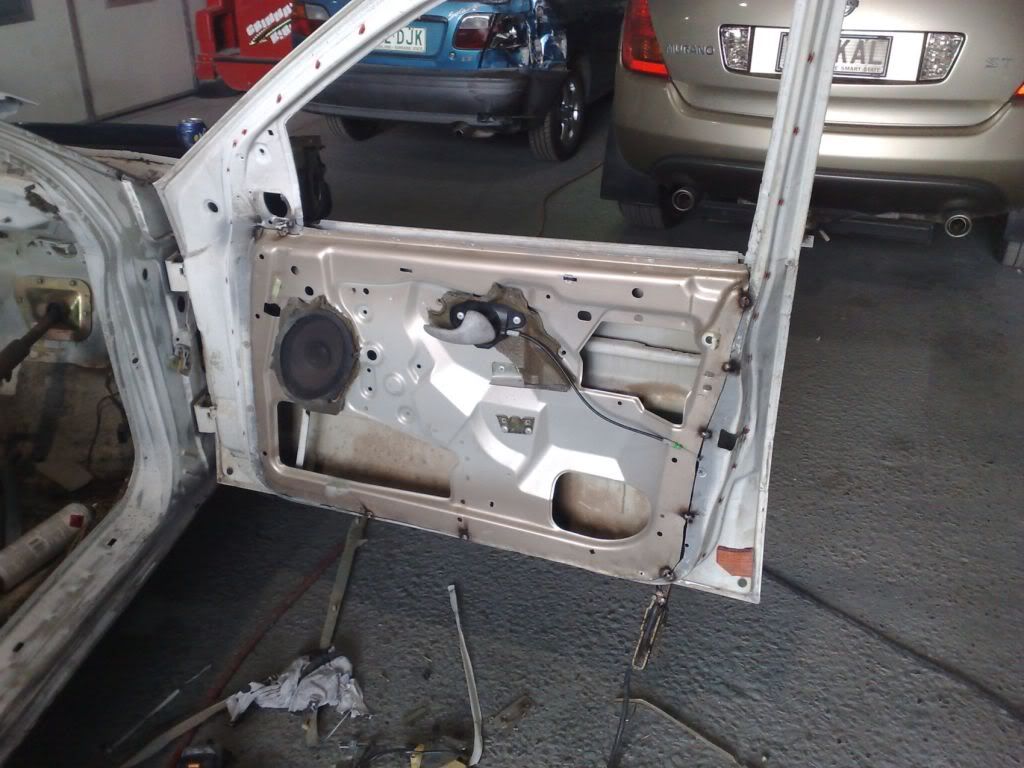 The welding process begins, weld in short bursts (meaning weld for about 10-15cms at a time, then cool off with a air blowere) heres the end product, i also welded up the unused holes:
Now with a grinder or i used a large air sander with 40 grit on it, i got stuck into it, i clean up the back end of the welds and it came out superve... i then applied a simple skim of body filler across it, this is when i decided to call it a day because my back it killing me. Ill finish grinding and sanding it early next week, and if you think it looks like a mess now, then ill show some photos of it in primer. I reackon itll llok fantastic, ALSO big note, youll have to spot weld or weld the window runner on the e-series door to the Au/BA one, youll see what i mean when your doing it, As for the window winder i have thaught about getting some AU electric window mechanisms and converting the part where it bolts up to the glass to the EB style ones, this project will start later on. Theres alot more to consider besides just the window mechanism, like the actual locks and cabels, but ill cross that bridge when i get there, at the moment iam more focused on getting the trim to sit. So here it is:
So i guess i did go a little crazy mwahh ha ha ha ha ha ha.
And dont fear it may look ugly to some at the moment but after its primed itll look factory.
Some of yous who want AU-BA-BF door trims may want to attempt a different root by modifying the e-series door, how ever i got fed up and annoyed with the gaps with the project i thaught of this idea. At least you know in the end if some one was to work on your car or had to repair your door, the trim could be removed exactly how it would in the original models and no extra screws or clips or any other crazy devieces are needed to help hold the trim on. Ill upload more pics later this week, as Iam going to attempt to do the other doors. Any coments or even ideas dont be scared to throw them on the tabel as this is the first time i have ever highly modified a car, and i hope my advice helps some one out there. L8erz.
o yeah before i go a big thanks to itlookslikeaxr6 for telling me about photo bucket. cheers mate.