Whilst I am Ford biased I can appreciate a good car/ute, hence the last build being my wifes WB ute. This time I was asked to build a vehicle for my daughter as she is coming up to that age.
The brief was simple:
Had to be small
Cheap to run
Easy to get parts for
preferrably a ute
manual on the floor
This rules out the falcon ute and she definately wasn't getting a commdore.
Originally aimed at maybe a Datsun 1200 ute but couldn't get one that was in reasonable nick for a reasonable price. I knew of a Mazda 1000 ute that had been driven by an "older gentleman" right up until he wasn't allowed to drive anymore. We went out and had a look and $250 changed hands and the old girl was trailered home. Now some of you may not know that the Mazda 1000 ute is a cab chassis meaning I could take the tub off and turf it in favour of a flat tray, something not so easy to do to the monocoque shell on a Datsun. Fist job at hand was a wash and cleanout. Found the original dealer delivery certificate from 1972 in the glove box along with a full service history. Wheel brace and jack had never been used. Quick check for rust revealed very little other than around the battery tray which was going to be modified anyway to take a bigger battery. After the wash etc it was time for the obligitory shed burnout which every vehicle I own must complete before it is considered mine
.
Any way on with the pics.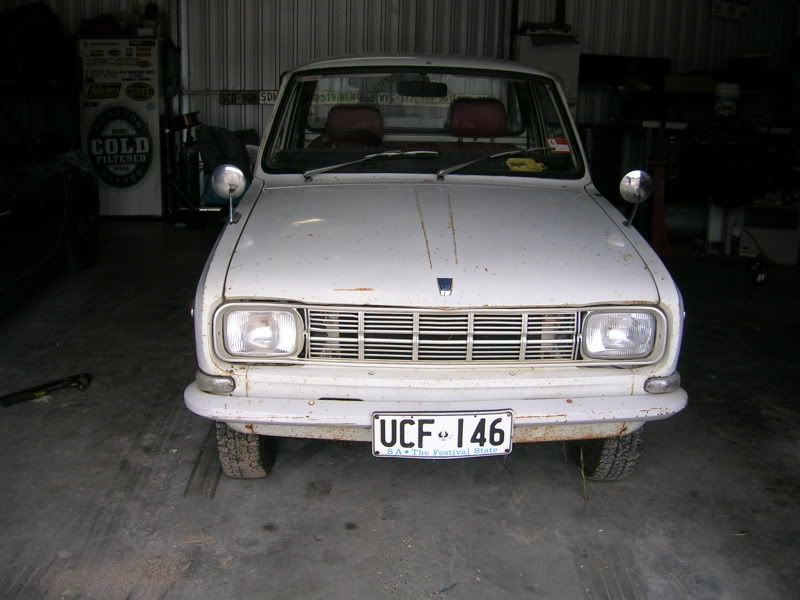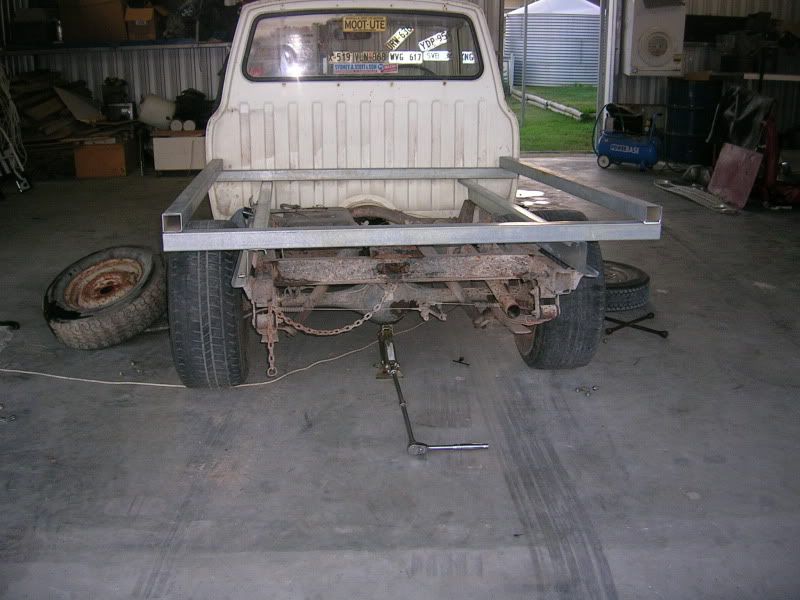 The last two picture show the tray under construction. The wheels were put on as a joke but as side note the stud pattern is actually the same as a Torana and I already have a nice set of Jelly Beans sitting here looking for a home
Before anyone asks the obvious "When does the rotary go in?" remember this is to be driven by a young girl on her ps etc.......she don't need that kind of excitement......
Colour(s) have already been chosen: Phantom Purple with Toxic Green highlights (you always knew it would be a Ford colour didn't you??? Bucket seats look like coming from a Hyundia hatchback
Now where was I???oh thats right the burnout......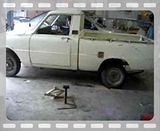 Will update as work progresses.
_________________
You'll ride a black tornado across the western sky

You'll rope an ol' blue norther and milk it 'till it's dry

Bulldog the Diamantina pin its ears down flat

Long before you take this cowboy's hat