Well the 4 days off work didnt happen as was promised and things have kept getting in the way , also I have had people royally screwing me about so physical progress is pretty much non existant.
Progress of the project is going fairly well.
Contacted the guy at the radiator place in Katoomba today who was meant to be sorting out a heater core for me. He had it all sitting up there for 2 frigging weeks and I had not heard a thing.
His reply was that he didnt know what to do about it as there was nothing off the shelf and he didnt know how to make one!!!!!!!!! I mean f**k he calls himself a radiator specialist and says there is nothing he cant do.
So this morning off I head to Katoomba , pick up my heater box and politely tell him what I think of his workshop.
I trundled off to North Richmond to the radiator place there that I used years ago and find its still the same guy running it. I explain the situation , show him the heater box and tell him what I want and his reply was TOO EASY! I will have to modify the plastic a little on return but it will be easy and it should be ready to go Thursday. So when I get that back I will go through and clean up , reaseal and basically recondition the heater box so thats off the list.
Best part is for the new heater core and the mods he only quoted me $240.
So hopefully now I will be one of the few that actually made an XF heater and aircon work with a V8 installed. If it all works the way its meant to it will be a very easy thing to setup.
Picked up a pair of these the other day.
They are pretty comfy and actually fit my rather rotund OBLONG shaped body rather well. Obviously another reason why Im keen to get the heater sorted out so I can finish in the engine bay and get to work getting the interior back together.
Pulled the gas system out of the donor car to find that the tank was out of date so that was dropped off today to be tested and should be right to go at the end of the week. A small set back but once its done it can be put in and hopefully there will be no reason to remove it.
A purchase on the weekend pretty took up most of a day by the time I picked it up and unloaded it and moved stuff around.
I was really depressed and to honest lost a lot of interest in the project when I found out that the other Clevo was not what I was hoping it would be. I had got a set of crank and rods and was in the process of getting the coin together to rebuild it.
The my beautiful wife was looking through ebay and ask if this 351 was of any use to me she found.
I spoke to the seller and he confirmed it was ok if I won it to drop the sump off it and check what it was before paying for it.
Well for some silly reason I was the only bidder and got it for $899 , so on Saturday me and the brother go for a drive. Well I drove and he celebrated Jack Daniels birthday ( that reminds me I must get all the cans out of his SS before he picks it back up tonight and he missus finds them. There would be at least a dozen just in the car alone)
Well the motor was on a heavy duty stand that come with it and we found a few surprises with it.
4MA Goodness
Factory 4 barrel square bore manifold
These are as rare as rocking horse s**t nowdays.
Baffled sump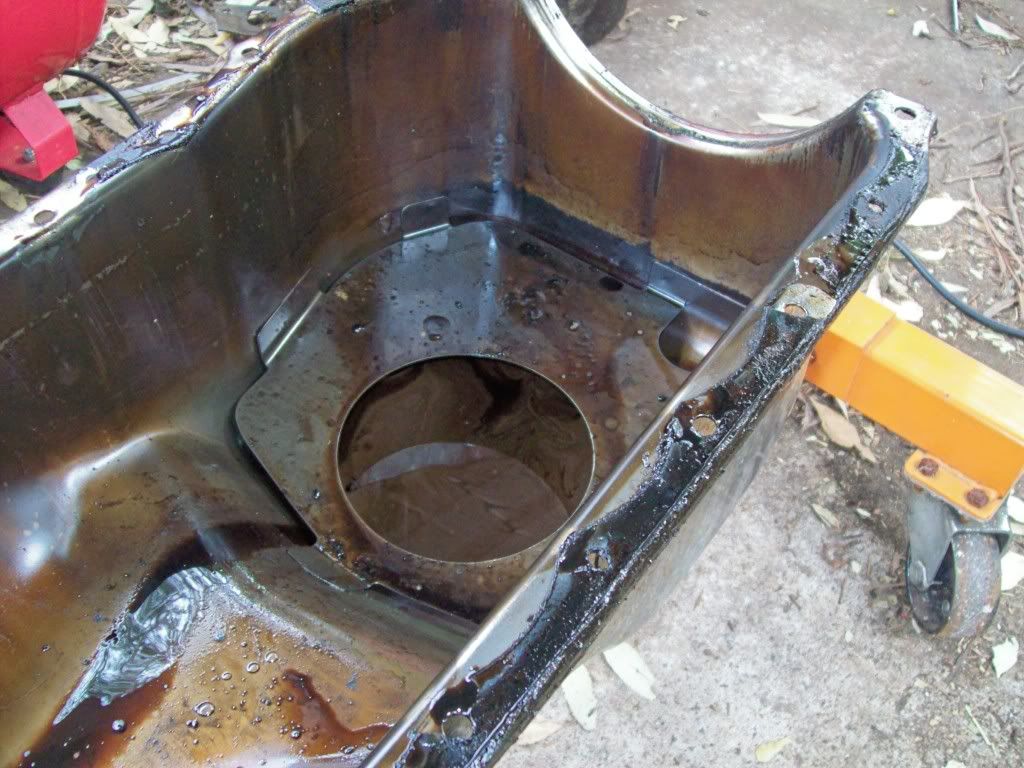 780 Double Pumper
A pretty cool set of old school Holley Rocker covers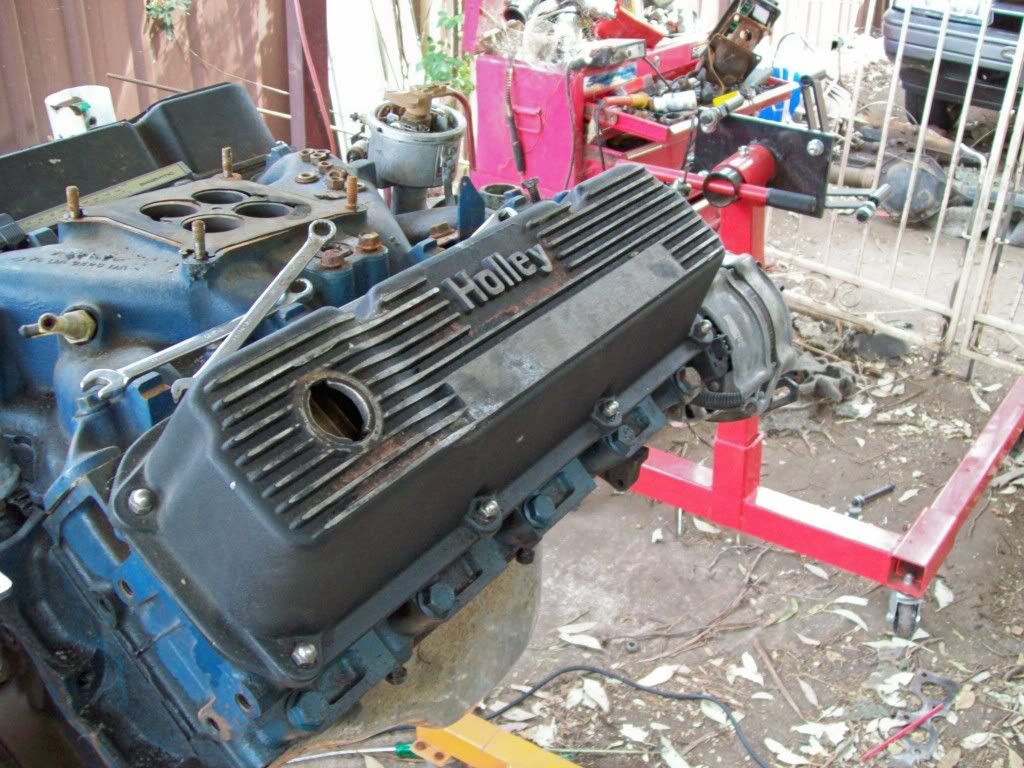 It also had a twin point Mallory dissy.
The guy knew not much about what has been done to it , he reckons he bought it this way and that it went pretty hard in his old XD.
The motor is a December 1972 job so who knows what bits the factory had lying around after the supercar scare. It is known that a lot of good bits were just filtered into production line cars to get rid of them. No idea about any of it but I will put it in and see how it goes and give it attention as required.
The 780 has already been listed on ebay and sold staright away so the motor has started paying for itself............LOL
Sunday consisted of working out what bits I had and what I needed to keep and getting stuff ready to get rid of so I can get some room back and some coins in the pocket.
My passion for it all has returned so I will getting into it whenever possible.
Im really hoping to at least be able to fire it up and back it out the driveway the weekend afetr the long weekend. It wont be finished by a long shot but I will be happy if I can once again move it without pushing it.
_________________
xr6turnip wrote:
More people paid for a ride in a VT commodore then an AU Falcon so the VT is superior.
Based on that fact my Mum is the best around!