Well. I got a canary a few weeks back on the Queens birthday long weekend. 28 days, warning, no fine. Got pinned for too low, one tyre and a W/A. Tried to explain to the officer the car is legal height and he's measuring on uneven ground. Wouldn't listen. And the one tyre that was scrubbed was due to worn castor rod and lower control arm bushes which i had since replaced. And i had a W/A straight after that. Even had the receipt in the car. But Melbourne T.M.U cops are arrogant. So anyway, fitted 2 new Sonar 235/40R18 and got a W/A. Went to VicRoads Tuesday on my lunch break and they passed it, height was fine.
On the way home i come around a corner in second a bit hot, popped limiter a few time and BANG, looked out the back and a massive cloud of black smoke come out of the exhaust and it dies. I was like "f**k, what did i do, rocker gear? AUX shaft?" Popped the bonnet and there was coolant everywhere. Tried to start it, just popped and backfired. Had a quick look but had to call a workmate to pick me up.
I come back after work and it fired straight up, I had a look at hoses and found that it had split one of the gas converter coolant hoses and coated the coil, dizzy and plugs with water. The split was right at the end, so i cut the hose but it went directly onto the coil again. So it wouldn't start again.
Just as i had done that i get a call from my brother, a friend of his lives just 3 doors up from where it stopped. And not even 15mins before i got there someone attempted to break into the car. Drove up and back 3 times, pulled up, tried to open the car up and scoped it out. So when i heard that i called a tow truck and within 5 mins he was there and loading it up. So at about 7pm the car was at home and safe. Get a call from his friend again. The same car as before drove passed, they come back for a second try. So a car alarm is being fitted with shock and infrared sensors tomorrow.
Then the coil had dried up and fired up again. I was planning to replace the converter hoses the next day at work as they had gone soft. I went for a drive and on the way home "accidently" hit limiter again. Then the low coolant light come on. So i was near home so i got home as quick as possible before it overheated. It split that same converter hose again. So i had to get a lift to and from work the next day. Got some 5/8 and 3/4 hose and replace all converter hoses. Now it's only the two 10mm bypass hoses left that haven't been changed. Gunna do them this week.
the perks of living in Bendigo. I know the tow truck driver. $60 for a tow one way anywhere in Bendigo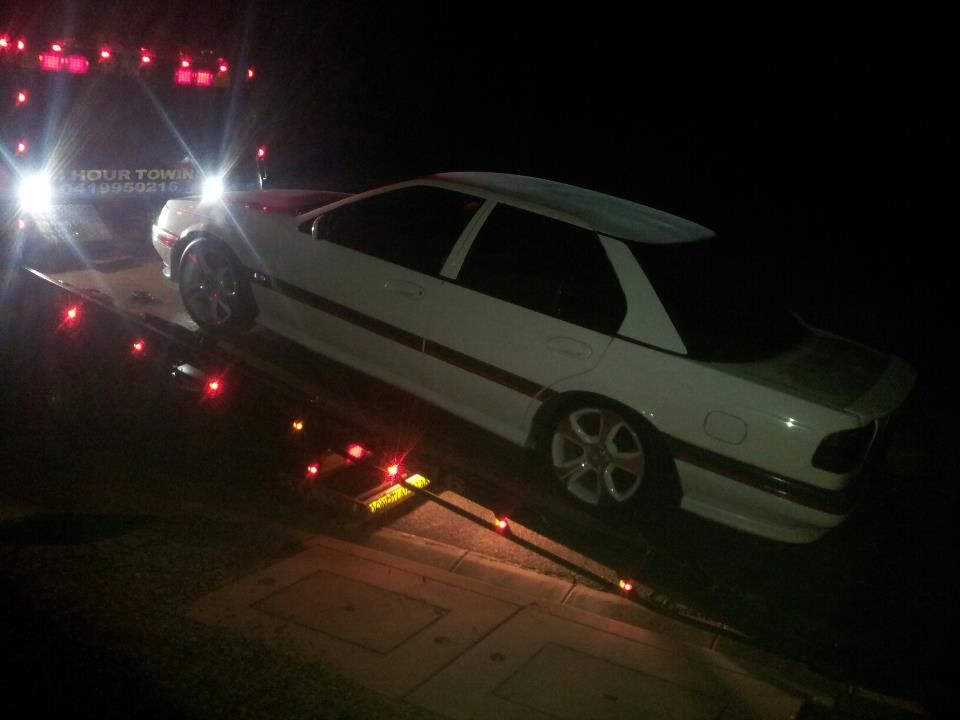 _________________
Daily driver: AU2. 5 speed. 19" FG luxos. Full exhaust. Lowered. AU3 XR leather interior, converted to full power windows. 3.45 LSD. IN THE FUTURE: Tickford 6
Weekend driver: EA SVO AU motor. Built BTR. TCE 2800 stall. T76 turbo. Locked diff. On E85. approx 320rwkw. 11.5 @121mph