When the line between daily driver and project becomes a blur. It happens to all of us.
You buy a car to get away from a daily than has become a project, sell the project, and suddenly you see it all happening again.
This is my ute. Bought as a humble country car, with a bullbar, canopy, and smelt more like horses than the local turf club. It was in reasonably good condition inside, outside was (still is) far from pristine. Manual XH 2, good service history etc. I bought it to get away from a project that I had actually finished but didn't like driving to and from work.
Previous Project:
Anyway I actually have it for sale at the moment on eBay because I got the s**t with it last week, but after realizing that no one will buy it for my outrageous asking price I've warmed to it again, and decided to make a build thread to give me motivation to work on it. So here goes.
Pics from when I had had it about a year (nothing much had changed)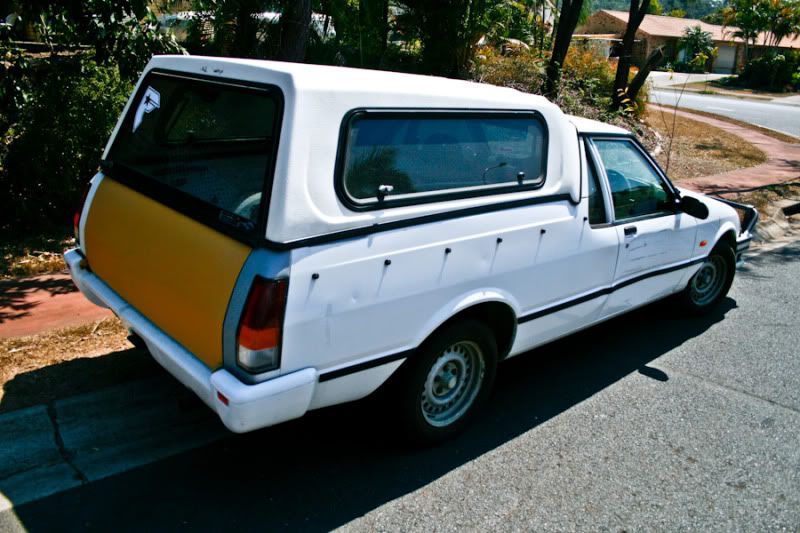 Things I've done so-far:
Replace horribly dinted door and fix hinge pins
Fake nardi steering wheel
17x8 wheels in e series offset
Lowered super low front and reset leaves with 2 inch blocks rear
Patrol rear shocks
Ebay front struts
Poly leaf spring, swaybar bushes.
Sub in between seats (10 inch)
Ef front bar
Ditch canopy
HD clutch
Head unit and speakers
Things I want to do:
Fix dents and get resprayed white
Lower another inch or two in the rear
Exhaust
Headers
Cam
Chip
So that's it. Any advice on mods or anything I should do to it are appreciated. Actually just general maintenance stuff as well because its running like a dog at the moment. Going to replace all the ignition gear this weekend see if that has any effect.
Anyway shoot me a comment!
_________________