Hey guys.
I recently ordered an LED dash light replacement kit on eBay.
The problem was when I took my instrument cluster out, all I had was blue dash bulb holders, which you cannot remove the original bulb from.
I need at least 6 of the white dash bulb holders, which will allow me to replace my original bulbs with LEDs.
The white bulb holders I am talking about look like this (notice where the red arrows are pointing):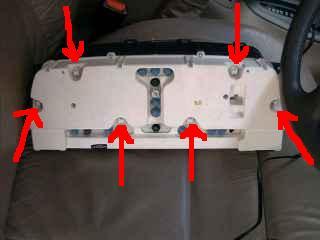 If anybody has 6 or more or knows somebody who does and is willing to sell them, please let me know ASAP, as right now, night driving is impossible.
Thanks a lot guys. Sorry for being so long winded, but I wanted to make sure I didn't forget to mention anything.
_________________
Ride: '97 EL Falcon GLi Wagon
Mods: 2.5" Redback catback, 6000k HID, Blue LED Trip Computer, Blue LED dash, LED Audi Style Parker Lights, Footwell Lighting, White interior door handles with fade in and out with parker lights, Fairlane rear courtesy lamp.