its ok i figured out the tacho thing and the fordmods EL ECU pinout is wrong. its missing pin 26 which is Vref.
i checked an Eb pinout which had it.
i'm half way through the conversion, heres a copy of what i wrote on boosted.
so, i started the AU ECU conversion today and it was, interesting.
i dont mind wiring and all the hectic spaghetti s**t lol but some people cant stand it, which i can understand.
standard loom pulled out ready to be stripped.
i removed all of the black tape to allow the wires to be pulled apart easier.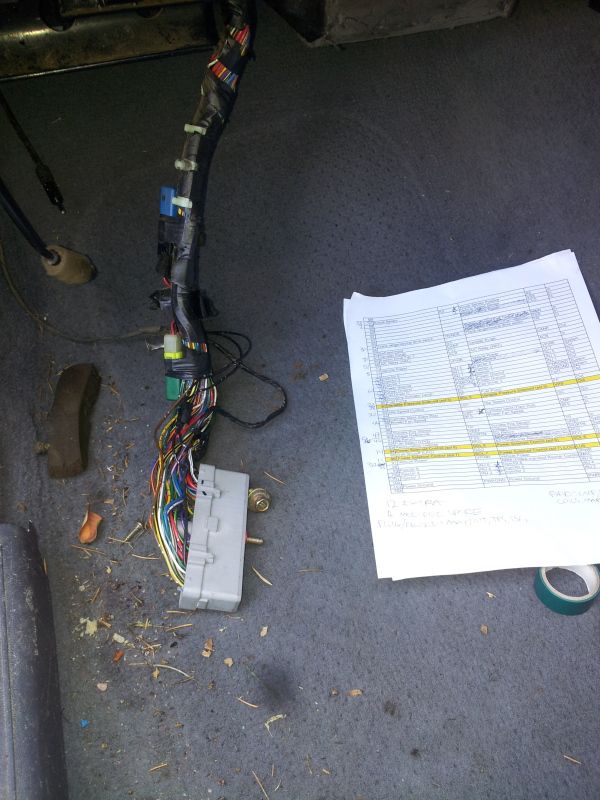 i started by stripping the AU ECu of the pins and and wires that i wouldn't require and left in the pins i needed. this turned out to be something that wasn't required but i'll get to that.
i then started to strip the EL/XH ECU pins to transplant into the AU ECU plug.
then i realised the previous series have larger pins for the ECU lol, but this didn't stop me. i ended up cutting and soldering every wire i needed to transplant into the AU ECU.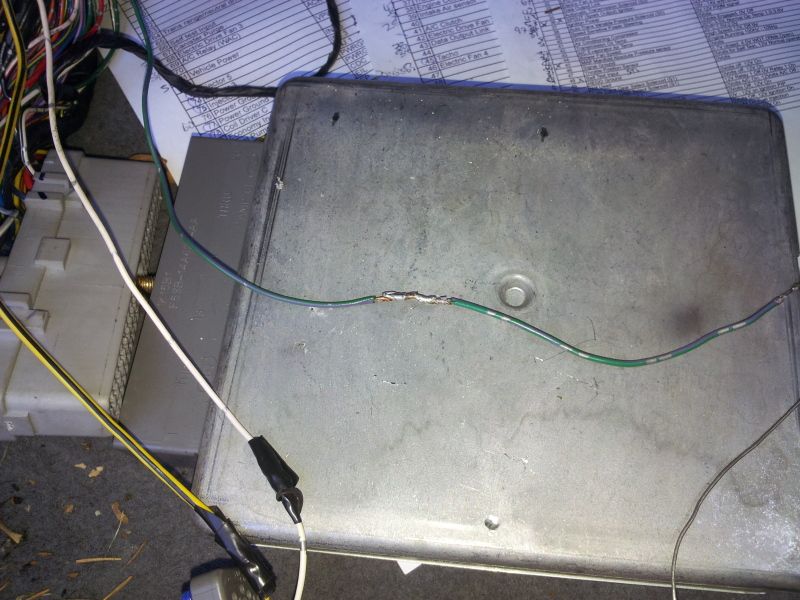 this took some time, but it was quite and easy process.
half way through
one pin left
once that was complete, i put the ECU in and turned the key to test and see if i f**k up, but the motor cranked and nothing caught fire lol.
next was the process of adding the extra wires required for the extra sensors etc in the engine bay.
rather than use left over wires from say the dizzy etc i thought it would be better to just use all the original wires and add an extra loom.
this turned out to be quite a simple but necessary process. it made adding the sensors and what not much easier. i had an engine loom from an AU so i used that to extend the wires i had to the required length.
i ended up having to pull the pins that i left in at the start, so it would have been easier to label them and remove them with the rest then thread the loom through the firewall, but it wasnt a bit deal.
in the future i will run the wires through the engine loom plug as per factory, but for now i just want to get it running as a proof of concept.
it got quite late so i did what i could, but i left the CMP sensor at home and realised the AU coil pack doesn't accept earlier leads. so i'll need to chase them up.
other than that its been hassle free but just a slow process.
tomorrow i need to mount the sensors and see if the CMP works as well as clean up the wiring after i mod the MAP sensor plug and possibly TPS and ISC, i want to see if it will run with the earlier TPS and what not first.
if anyone wants i'll do a proper write up with stuff like sensor info, wiring etc, but its really not that difficult. i have a spreadsheet of EL and AU ecu both with the pin numbers that match and what to do with those that dont match.
i have a few wires that are not attached to anything but its important to label them so you don't lose their position.
hopefully tomorrow it starts haha!
if anyone around carrum downs has some AU leads i'd love to at least borrow them
_________________
XG Panelvan
mild engine, EL ECU & J3, HI6 & MSD coil

in the shed - .595" lift cam, GT4202, forged AU engine, ems 4424 ecu, glide & 5500 stall - next-bellhousing

XH ute daily - DOHC BA XR6 engine, T5, AU3 ECU, J3 chip, wideband & logger, ported BBM, 3" intake