Bozz wrote:
Just mucking around with my EL Fairmont boat, whacked a timing light on it and put it into diag mode.
First thing I noticed is there is only one mark on the harmonic balancer and only one point on the engine to mark where its meant to be.... how the fudge do you accurately set the timing damnit.... The mark visually was about 10 degrees left of the pointer which would indicate a fairly accurate setting.
So I adjusted it to about 15 deg btdc and all of a sudden the engine decided to make about 20-30rwkw more on LPG...... Can't argue with that
Put it back to petrol and it pings its tits off, will try Synnergy 8000 tomorrow and give feedback. Fat lot of good the knock sensor does....
There is a unit you can buy that changes your timing to a preset degree to use with petrol/gas setups, I don't know what its called ,who makes it or where to get it but Iknow it exists as I owned an XD 351 on gas with it when I bought it ,I found gas can take up to 10 deg more advance, making it more "efficiant". Mine was a sprintgas set up maybe they know about it?
_________________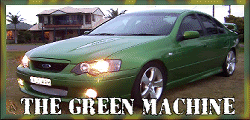 IF YOU HAVE IT UNDER CONTROL
YOU SIMPLY DON'T HAVE ENOUGH POWER!!!
Detroit 8V71 for sale, taking offers