I have set up a fuel pressure guage to watch whilst driving it, and there was no drop in pressure at all.
so I looked in a few different ares, first with the cooling system and BINGO! problem #1 the manufactor of the radiator has taken short cuts with it ,where the cores are soldered thru the ends it looks like they have been cut with pliers, leaving the openings crushed almost together, in fact that tight that any build up of rust or whatever acctually blocks them, by the way it's only 3 months old.
Problem #2 was just a gasket between the intake and a 3/8'' spacer, and it was leaking EGR back thru a couple of runners, possibly caused by the heating problem?
thanks for the reply, cheers kenny
_________________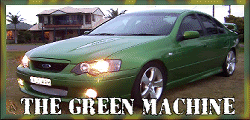 IF YOU HAVE IT UNDER CONTROL
YOU SIMPLY DON'T HAVE ENOUGH POWER!!!
Detroit 8V71 for sale, taking offers