EDXR8 wrote:
Thats going to be hard to do without working out the exact transfer functions for each sensor on the engine. For example MAFs come from the Ford factory with around 5% margin for error and apparently they are the most accurate around. Same goes for most other sensors.

The whole idea of the Tweecer is to tune the engine to your actual combination and modifications, I don't know what he means by a replacement EEC unless he means get a supported EEC like the US A9L, but as I said even then you have tons of areas for errors. I have been working with my tweecer for 2 days now just to get the idle correct and its still far from perfect, but thats with an aweful lot of mods. For the average user, you only need to slightly tune the EEC (fuel and timing maps only really) to get very good results.
I believe he is talking 'bout the US version, and yep going thru every sensor ,working out the values and starting with that, then tuning the ecu to the fuel/spark requirements of the engine, not just being close as the 5% tollerance is handy when sensors become worn/dirty ,but starting with the correct values will allow the tollerances to be utilised, as if you start at the limmit of the toll's the error margin cannot be used in a day to day use when required, does that make sense?
_________________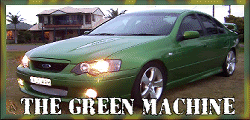 IF YOU HAVE IT UNDER CONTROL
YOU SIMPLY DON'T HAVE ENOUGH POWER!!!
Detroit 8V71 for sale, taking offers