all it is is a 256k resistor that loops the IAT sensor, telling the ECU the air temp is 0 degrees C ,depending on engine mods you can gain 10 rwhp at lower rpm, but...... it does have its downsides, like oiling up the iat cos its not being heat cleansed on shut down of the engine, and overheating if not adaptable to the individual engine.
I used one (resistor not the so called chip for $18) when I first installed my bigger cam, simply because of the extra advance (& faster) required by the cam. if I advanced the initial timing it lost too much low down response, but after a couple of extra mods to the compression, heads & fuel system I have removed it as the car didn't need all of that advance anymore.
the mod is open to opinion whether or not it works, but I do believe I benefited from it.
cheers kenny
_________________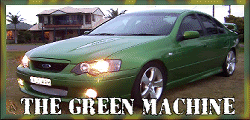 IF YOU HAVE IT UNDER CONTROL
YOU SIMPLY DON'T HAVE ENOUGH POWER!!!
Detroit 8V71 for sale, taking offers