Here is a write-up of the headgasket change I recently did on my EF.
It's not meant to be in depth, just a very basic overview with pics for
those contemplating doing it themselves. There are heaps of threads about this job to also read.
I used an AU gasket and AU headbolts, both from Ford.
I also got a VRS kit which had the other gaskets & bits & pieces needed, and some new coolant.
I used a reconditioned head, so it was a direct swap in & out job.
I didn't have any oil in the coolant, and it ran pretty good. But it had that dribble
along the exhaust manifold. And it was also rattly when it idled at proper temp.
It would start-up and idle nice & smooth, but after a few mins you would hear a rattle like
a worn lash adjuster start to build up. At full temp it was a constant rattle like a diesel.
This noise had me stumped because the HLA's were all new. This noise went after the
new gasket.
Here is what it looked like at the start.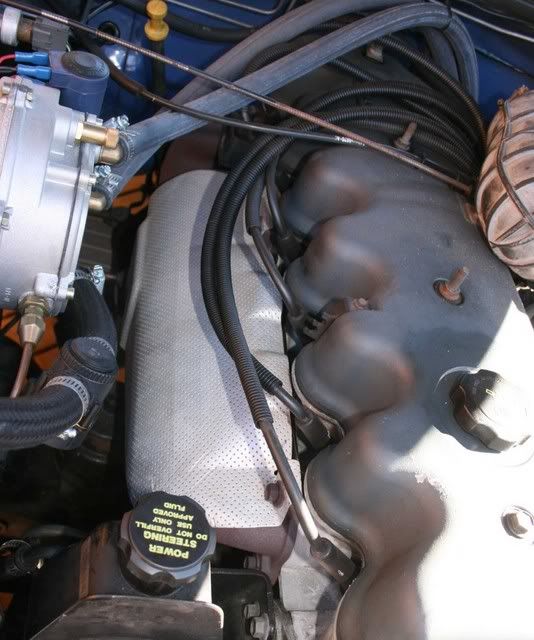 Tell-tale green under the exhaust manifold.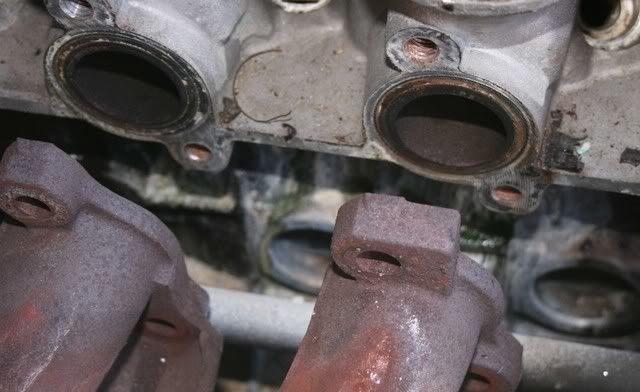 Rocker Arms & Cam Off, Exhaust & Inlet Manifolds Unbolted, Cam Sproket Cable Tied.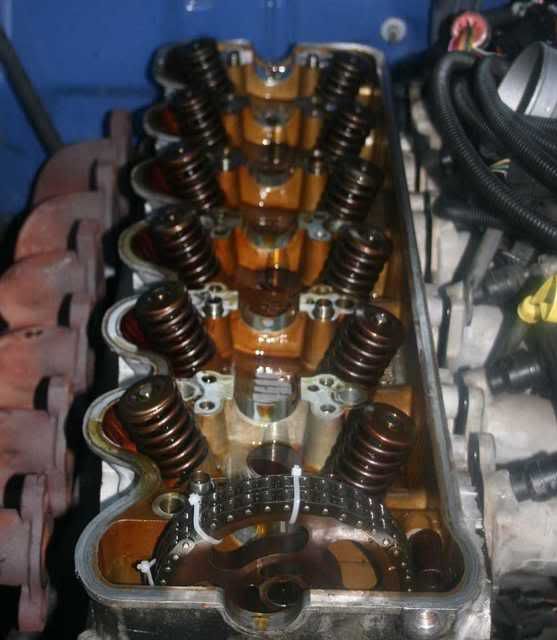 Don't forget to undo this bolt, or you'll snap the timing chain guide
when you lift the head out.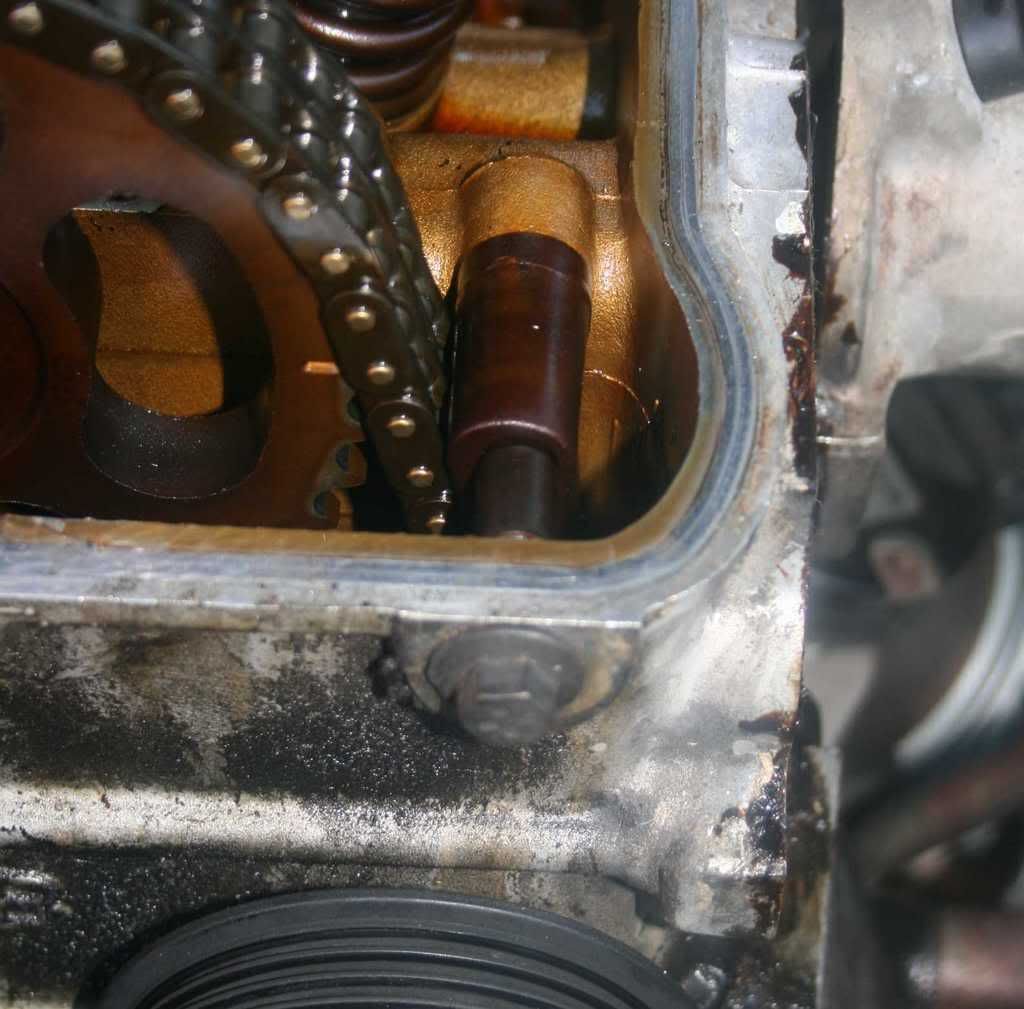 My headbolt weapon. Used a 14mm single hexagon impact socket.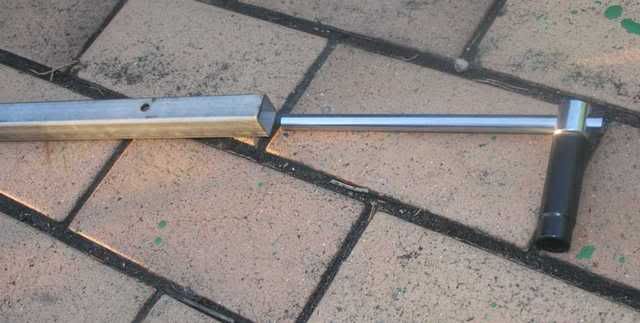 Head off. This is what the top of the gasket looked like.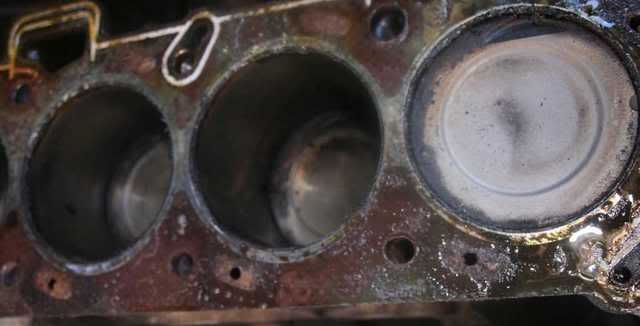 Definitely blown. It was leaking water into a few cylinders.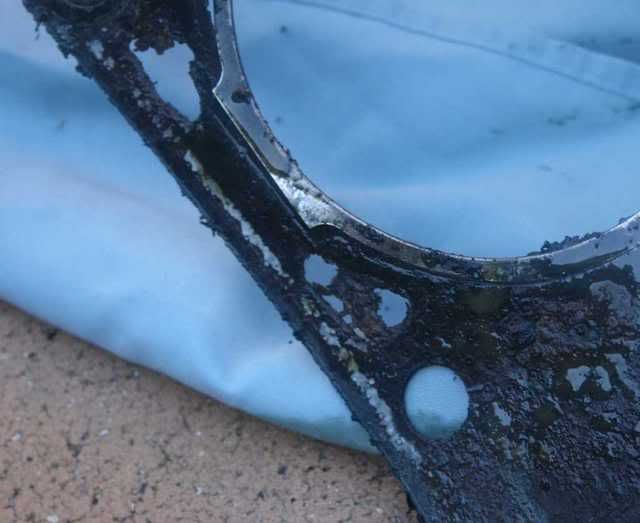 The old head & gasket. The rip at the front of the gasket was me getting it off.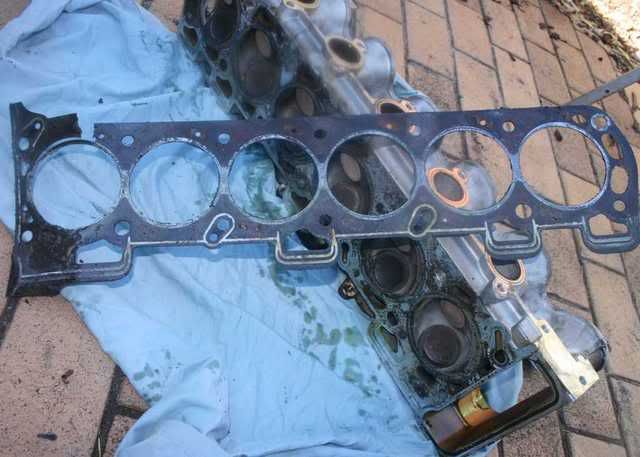 Now time to clean up the block. I used a drill with wire brush attachment for a while.
Then switched to a sharp scraper & wd40. Clean up was turps & lots of paper towel
until it was spotless. Vacuumed out the cylinders & wiped clean.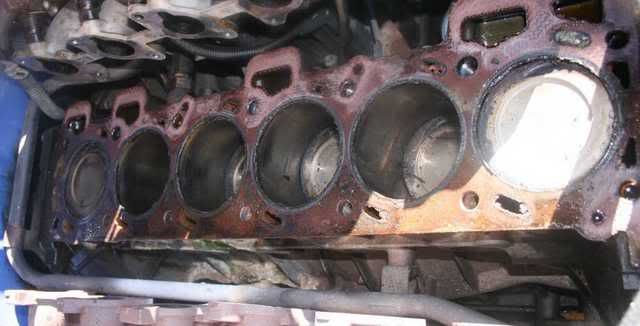 Now it's getting clean.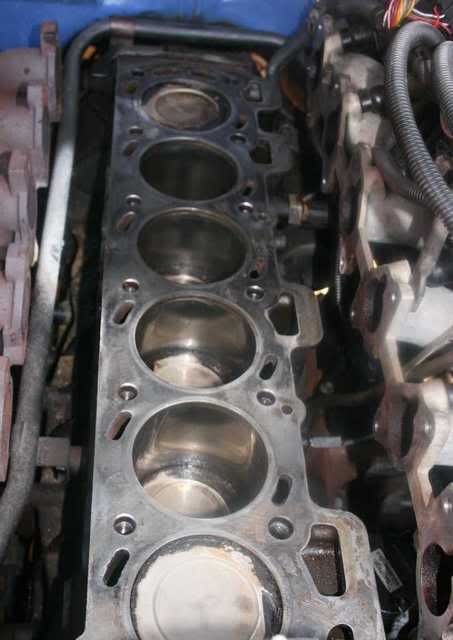 I cut a slot into an old headbolt with an angle grinder. Used this to clean up the headbolt threads
in the block.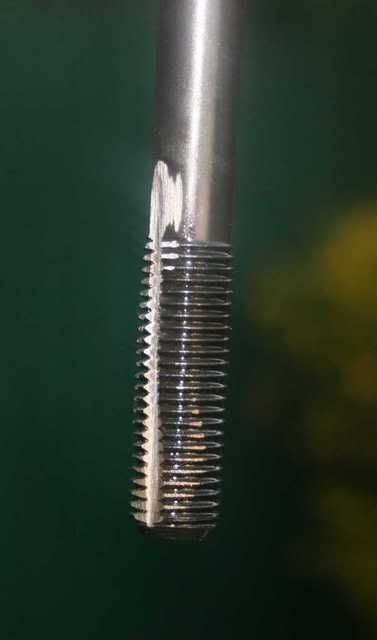 It also did a good job of bringing up some oil in about 3 of the holes. The oil must have worked
under the headbolts & run down the bolt to the bottom. These bolts must have stretched, as they
were pretty easy to get off from memory. Only two bolts were actually really tight. The others
didn't create much resistance at all.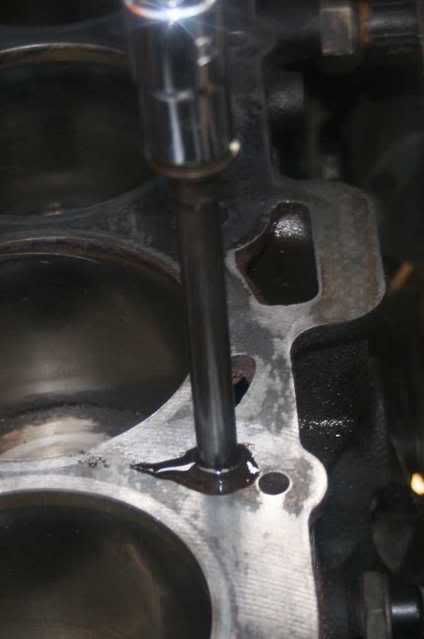 The hole where everything must now go in. The cam gear just rested there without any problems.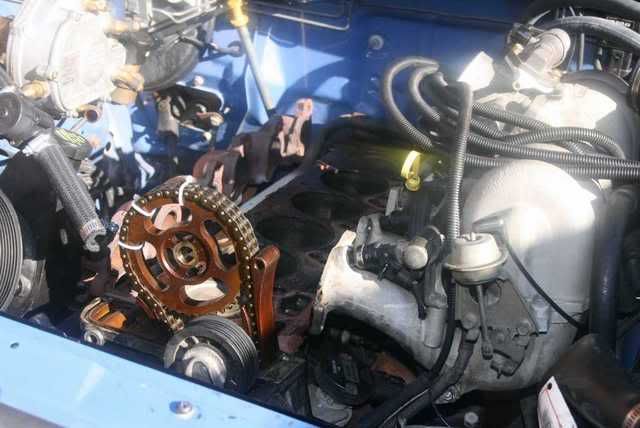 The AU bolts were beafier around the top than what I had. Both in the diameter and thickness of the
integral washer.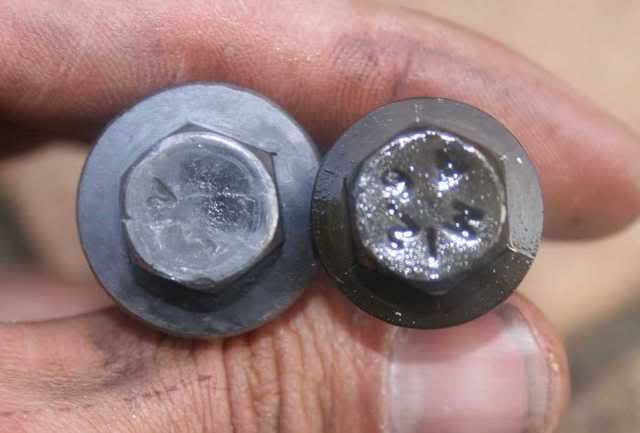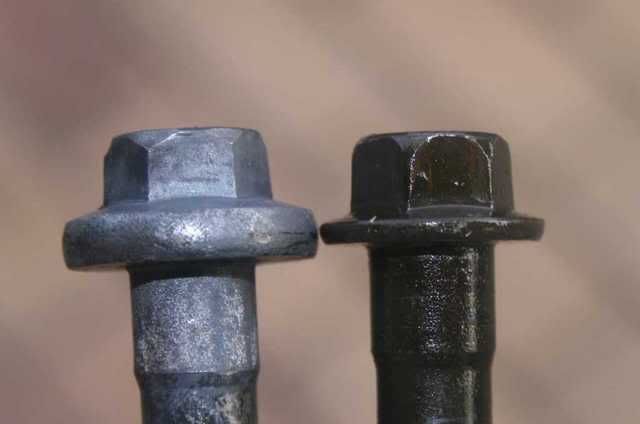 Not sure whether this extra diameter is because they were ford supplied bolts. Some people have
said they had to grind them smaller, & that's what I had to do. Ground out the roundness on the
edge of the washer till is just came straight down. In hindsight this wasn't enough. Another
quarter to half a mm over that would have been better. The clearance to the rocker arm assembly
was a bit tight in places. I had to relieve the rocker arm assembly with an angle grinder in one
place also, wasn't nice, but I wasn't going to pull out the bolt. (Maybe I could have, but I
wasn't game).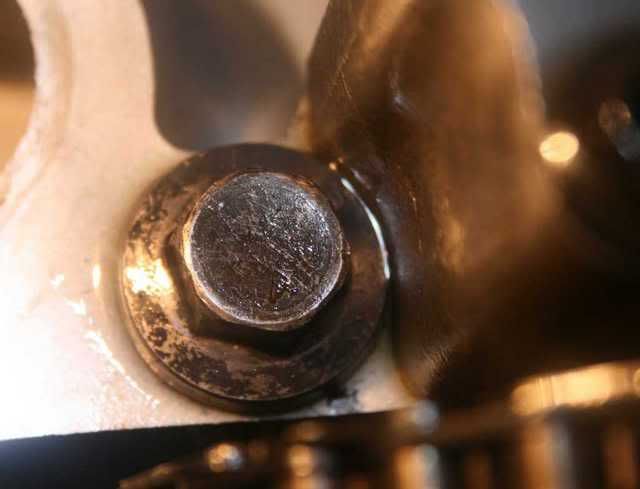 Silicone around the timing cover, going under & over the new gasket.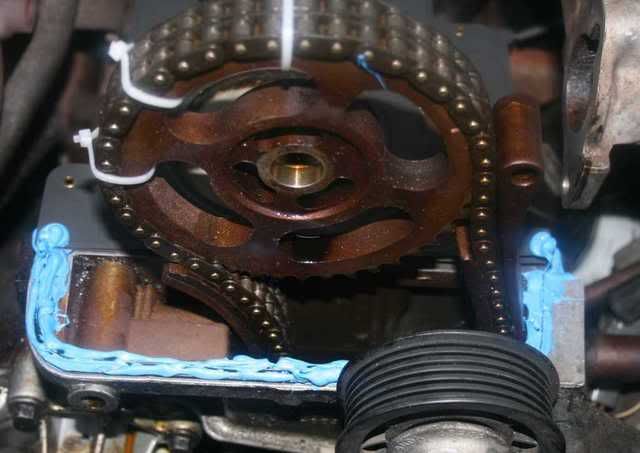 It all went together ok. Took about 12 hours, but was not hard, just time consuming.
I put the car on car ramps to raise it up a bit, & was glad I did. Otherwise it would have killed
my back all that bending down.
Starting it up caused alot of steamlike stuff to come from the exhause area. There was also a
pronounced rattle on idle for a few seconds, then pronounced rattle when I revved it. It was
a bit disconcerting, but went away after 15mins of idling. I think it might have been a
lash adjuster pumping up again. The steamlike stuff was oil burning off the exhaust from
where I had touched it.
Now it runs really smooth & idles great. Just like a Ford should.
Cheers
_________________
95 EF Wagon, Dedicated Gas