G'day guys, back with another problem with this bloody stupid car.
So it has been running like absolute crap balls, and I did a diy smoke vacuum test which was conclusive that I have a bigass leak.
Well that was today's job..
see: Old broken inlet manifold gasket.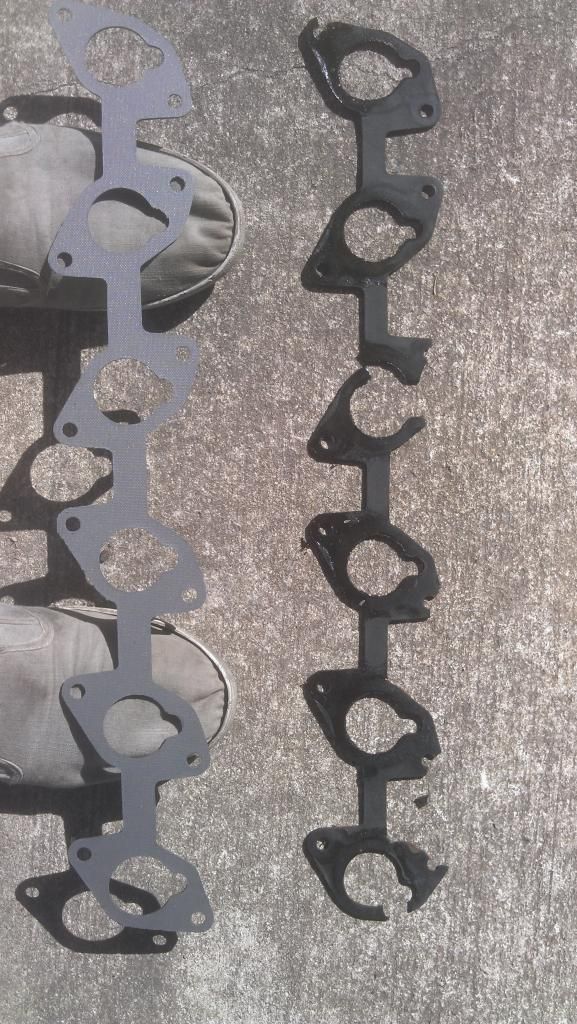 The new gasket is made by permaseal. I bought it from bursons for $30.55. Much better material than the stock one. It took around 2 hours for me to change the gasket and get the car running again. After figuring out the injector 1 was unplugged and ht lead 3 wasn't 100% connected (don't buy bosch supersport leads. You will want to kill yourself).. Fun times.
So, after all that. The car is still doing this crap.
http://vid1368.photobucket.com/albums/ag175/Filipe_Argentino/VIDEO0003_zpsa6e0072a.mp4
(if the above link doesn't work)http://vid1368.photobucket.com/albums/ag175/Filipe_Argentino/VIDEO0003_zpsa6e0072a.mp4
So basically what is going here?
It is starting at idle, revving, lowering to idle and then raising before dropping again. My only guess is there are still vacuum leaks somewhere.
My understanding is now that the isc is disconnected, the throttle pedal is the only thing that is going to allow more air in to raise the revs. So why is it doing it on its own?
I have blocked off the isc because it is too slow, so is the replacement one I acquired. The idle has been bumped up accordingly. The throttle body is clean and polished, and throttle cable appears to be smooth (no sticking).
I'm stumped
Mine does the exact same thing but only when the thermofans kick in, when it was auto you'd be sitting at the lights and all of a sudden the thing would rev up to 2500 RPM and want to take off.
It would only do it when the car is warm, if you were driving along in D, cruising up to the lights, on down shift to 1st coming to a stop it would go to stall and shake the car, go down to 500 RPM then rev up to 2500 and smash into 1st gear.
Or it would do it stopped at the lights and the thermos kick in.
Its manual now, for the life of me I cannot figure it out, it still does it when idling when the thermofans come on.