because the coil has a constant 12v being sent to the positive side and is only fired when sent a negative signal from the TFI on the dizzy.
its still a bit strange though as the TFI shouldn't have anything that makes contact with the dizzy itself other than the heat sink and the plugs for the hall effect sensor located in the dizzy, but this might be enough?
the coil output on the TFI is actually controlled by the ECU, so it may be possible for both the coil and ECU to be damaged.
get a known working coil and plug it in on top of the manifold so you can test it easier.
check the plug at the coil. with the ignition on, the positive side will have 12v going through, but the negative side will not have a signal - so earth your test light and check each side of the plug, if it lights up on both sides whilst earthed, this is bad lol.
if you cant get a hold of a coil and still have the dizzy out, you can check the wires at the dizzy end by probing the TFI plug - test them with the coil plugged in, then again with it unplugged.
the wires should be(going by memory, so please correct me if i'm wrong):
PIP: positive signal only active when fired by ECU
SPOUT: positive signal that varies when the distributor spins
start: 12v+ only active when cranking
run: 12v+ active when ignition is on
coil: negative - only active when told to fire by ECU
ign ground: negative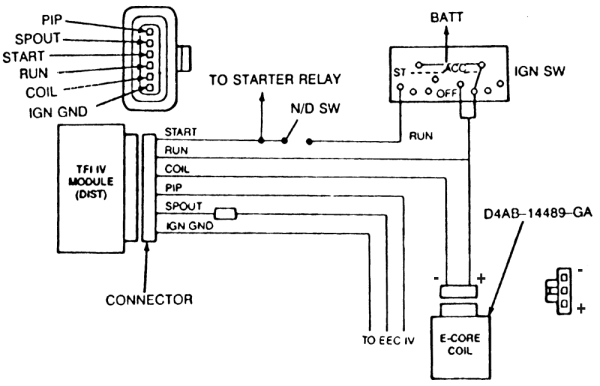 hope that makes sense and helps lol
_________________
XG Panelvan
mild engine, EL ECU & J3, HI6 & MSD coil

in the shed - .595" lift cam, GT4202, forged AU engine, ems 4424 ecu, glide & 5500 stall - next-bellhousing

XH ute daily - DOHC BA XR6 engine, T5, AU3 ECU, J3 chip, wideband & logger, ported BBM, 3" intake