WOW!!
that ones got me..
my mods
1 heavy ghia-more kilos than gli
other mods listed in sig... my best on the night i went 7 runs was a wheelspinning off the line 15.2 @148kph.. best 60 foot was 2.4, with a best 660ft of 10.018..
all my runs i had wheelspin cos of the s**t hard compound tyres i used..no amount of burnout could soften the buggers.. i dont have a stally but im getting one and with decent tyres should crack the 14's no drama according to my trap and various speeds.. with the xception that i got the xr running gear i dont see to much difference from wot we got.. i only lightly ported the ticky head..
wot diff u running??... mines the 3.45 xr( factory fitted)
as gaz said- give us some of the other times. 60 ft..660 ft.. 660 speed etc..
knowing these numbers can lead to more investigation
details boy.......
_________________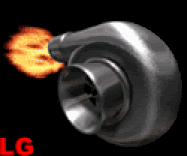 15 PSI OF BOOSTED GHIA GOODNESS!!!