Hi all,
Sorry to resurrect a really old thread. but this one is the closest of all the searches I've found to asking what I'd like to ask.
When the tensioner is in its fully extended position, pushing on the guide/chain as it should be when driving.. it is no longer held together at all by the little lock pins on the piston right??
What I mean is, when you are trying to get it all in, you lock it up like this: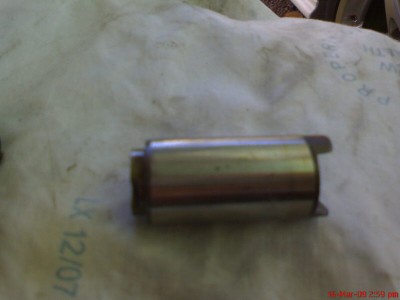 Then you use the allen key (I found the outside of a fat BIC pen fits pretty good.) to extend it to this position:
And finally you go a click past that and it unlocks the whole thing so the spring is fully released from the piston and the whole thing would be in multiple pieces if it wasn't wedged between the guild and the retainer.. This is the correct position for the running motor?
My problem is that the above is the point I did mine to, the two pins in the piston are not locked into the spring retainer at all... (I think)
It is this note from Troyman that has me concerned.:
TROYMAN wrote:
in that pic the tensioner is extended to its tensioned position.
you need to push the narrow end in while rotating it clockwise untill it locks in..

then you fit it to the engine, do up the retainer.. then release the tensioner with a 3mm allen key with a 10mm tube over the allen key to push the tensioner while turning anti clockwise to put tension on the chain...
I did not think that this:
Is fully released.. I thought it was the last stage before being released..
I just put this engine together, If I did it wrong and the tensioner is pushing too hard on the chain I do not want to bugger the engine so I'd like to know about it now.
I did check after I did it, and I could push the guide back and forward about a centremeter with a screwdriver.. it was firmly spring loaded.. but it did move back and forth easily enough so I thought I must have it right.. it didn't seem like a huge amount of movement, but the chain and guides are all new so I expected it to be less than before.
Can anyone clarify to me that if you fully release the tensioner as it should be in a running engine.. would the spring and piston be completely unlocked and separate, if you were to unscrew the big round retainer that looks like an angle grinder disk nut, or would they still be locked together as they appear in the photo closes to this paragraph above? I've just read a dozen threads about it and it still isn't entirely clear.
This new engine is in as new condition.. I'd hate to have the chain too tight and naff up the aux shaft and have to throw it away. (How does it get to tight for that to happen? What tensioner position causes the chain to over be so tight that it kills the AUX shaft?)
cheers
Frank