It's been a while since my last update, and I've found a new method to finish off my lenses.
I couldnt get the clear from a spray can to go down as nicely as I wanted, but this new method is super simple and super clear. It also has the bonus of having UV blocking qualities.
Here's the finished product.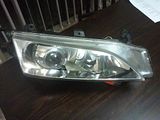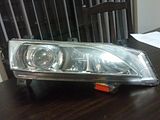 I had finished off the other side too, but discovered that I hadnt sanded it 100% smooth and it distorted the light output a lot. So I had to go over it again. I've just applied the finishing coat to that lens last night.
The wiring is all done ready to go, the only stuff left to do now is:
- Fix the shrouds in place so they dont fall off inside the headlight
- check final alignment
- attach ballasts to headlight caps so it looks factory
- close the headlight
Tonight I should have the final alignment checked, the ballast mounts sorted and the shrouds glued in place. The glue for the shrouds needs to cure for 72 hours so there arent any fumes released inside the housing that will fog up the lens, so they will be ready to be closed up on Thursday.
Finally, after many delays, major losses of motivation and hefty amounts of procrastination, they will be fitted up to the car permanently this weekend.