magna wrote:
inverno10 wrote:
really does s**t all over the ebay ones if you ask me. and thats pretty cheap for 100% leather...
yeah when u add the extras like the perforated material, door trims, embossing it really adds up! this is how far i got today, i havn't done the drivers seat yet cause i forgot to give them the original
(to take the plastic strip off)
it might look a bit wrinkly now but give it a few weeks in the sun and the leather will shrink and presto! wrinkles disappear. the professionals use heat guns but i prefer to leave it naturally.
Far out, those are sexy!
I'd love to see EB/ED Ghia "full leather" (but we know it's not) retrimmed with black around the edges & the factory grey in the part you sit on, that is leather in the factory seats. I can picture it, man it would look sexy. But i really dunno what to do with the headrest - grey or black? Hrmmm. For now i'm flat broke, so i'll have to leave my "full leather" seats stock & dream on. Excuse the mess in the pic, i was working on a rear door when that pic was taken.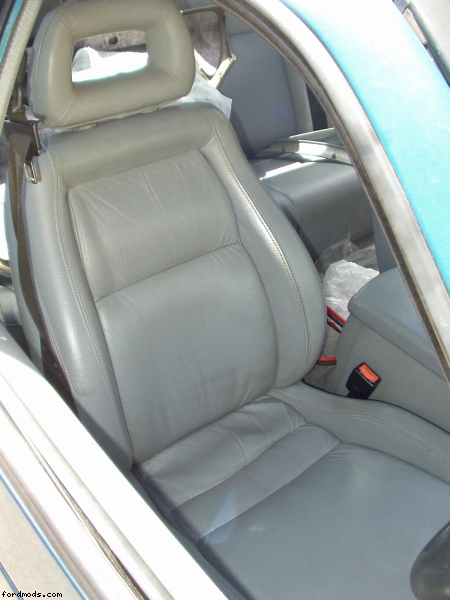 Even the EB2/ED Ghia "leather & velour" seats would look good with black around the edges with the velour nice & clean.
Cheers
ToranaGuy