.OZZY. wrote:
or evan better what about a set of GT pedals, would they go into an AU
Is your car Auto or manual? I will only comment on the manual set - as I have not tried it in an auto. The Brake and Clutch are easy, all you will need to grind a small section off the existing pedals, to allow the BA pads to fit over the pedals. You take the left edge off the clutch and the right edge off the brake.
Once you are able to get the pedal pads to fit over the pedals, there is a bolt that goes through each pad (check the middle row of black dots in the above pic, one is a torx bolt). Drill your pedals, to fit the bolt.
There is no easy way to do the accelerator pedal. I ended up plastic welding mine on. Keep in mind that if it is not done properly, it will break. It may not happen straight away, but it will happen. I have had mine break off once in the past. I have since re-attached it, and have not had any issues since.
This was the end result...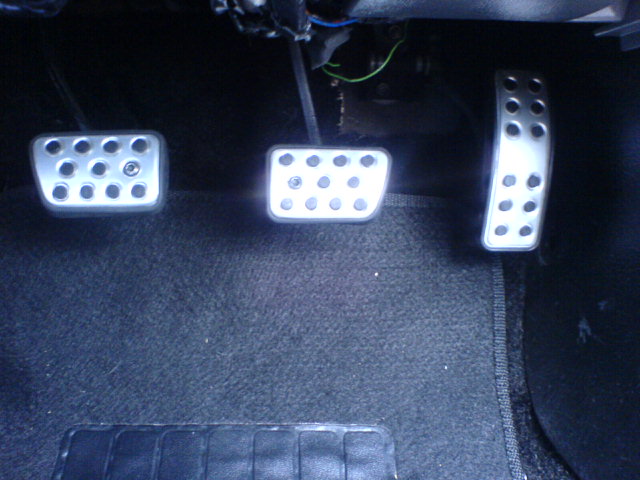 This is an old photo. This was when they were in my EF. They are now in my EL.
.OZZY. wrote:
hey guys you know those alloy pedal sets you can but at super cheap auto, repco and other places like that? Would the fit into my AU? looking at getting a set, just pedals nothing else
These ones are easier to fit than the BA XR/FPV ones, but they look crap IMO. I fitted a set of these to a mate's car. These were just a set of brackets that done up from behind the pedal. If you choose these ones, try to get ones that have rubber sections on the brake/clutch pedals. A lot of the ones on the market have black plastic (to look like rubber) or nothing at all. These ones are actually illegal, and are downright dangerous of you hop into the car with wet soles.
BA ones FTW. They look better, and are safer.
_________________
Remember kids, the more pages of crap in your build thread, the bigger your e-penis is