its an AU s2 Fairlane With a vct engine
NOW
The issues im trying to tackle are...
1. car idles poorly and sounds like its missing but its at a different place every time when u take a timing light to it.
2. at speeds of 60-100 kph as previusly stated when foot is let off the gas and then back on there is no power for a decent few seconds between 10-15.
i was not aware of the miss till today as i havnt visited my Gramps for a few weeks now.
I have a spare coilpack but coils have been replaces 10,000 km ago new leads about 200 km old and plugs have been plugged down to .8 and are about 5-7,000 km old.
Car runs perfectly on petrol no miss or anything.
Getting to a point of rediculousness now
AU99 wrote:
Most EA-FG use a 2 stage thermostat.
What happens is when the car is cold it shuts off flow to the heater curcuit so car warms up quickerbut convertor works on this curcuit so freezes up... Now what can happen is when car is cruising along the thermostat can close during normal running.... frozen convertor,,,
The thermostat you need is this one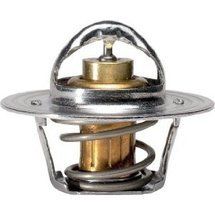 this does not shut off the heater curcuit....
The pics I have used are just ones I found on google....
I also have the correct thermostat for my application by the looks/sounds of things.
GPA tells me that there is infact a jiggly thing on the thermostat i have no idea what it does.
I will be opening it up later on
Photos being uploaded to photobucket now!!