MOTUL 300V Range – 100% synthetic ESTER Core
Motul has built its reputation on the motorsports range of oil called 300V. Suitably named after exceeding 300 victories achieved with this formulation incorporating Motul's proprietary Ester technology. Each viscosity is referenced against different engines in different racing categories. Porsche, Nismo and Mugen are but a few. The 300V range is accompanied by competition gear oils, brake fluids and cooling fluids to ensure the highest level of protection and endurance in the most extreme conditions.
The 300V range can be used from the highest level of motorsport down to the everyday level of performance cars. 300V can be used in either spark ignition or compression ignition vehicles which is to say:
- Petrol (Leaded, Race Leaded, ULP, and PULP, Race Unleaded)
- Diesel (Standard, Ultra Low Sulphur, Bio-)
- Ethanol (E85, E100), Methanol and Alcohol
*Warning – Drain intervals for race fuels, including Ethanol, Methanol and Alcohol fuel types are subject to fuel dilution and water absorption. Neglecting to drain at suitable intervals will cause irreparable engine damage.
To find out more about the
Motul 300V range
, visit the Motul website
HERE
.
IMPORTANT –
There is an exciting new product range release for 2015 that all users of E85 need to know about. Read on to find out more!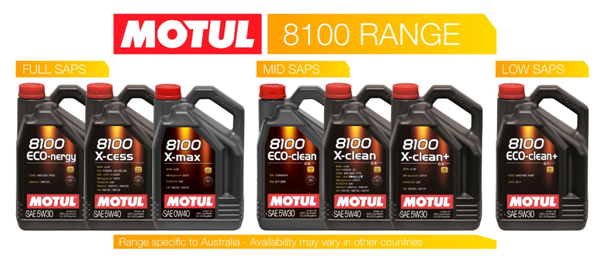 MOTUL 8100 Range – 100% Synthetic
The 8100 range has a comprehensive list of OEM approval oils to suit the modern European vehicles meeting strict Euro 4, Euro 5 and Euro 6 emissions standards.
The range is broken up by 6 categories, 3 categories are for fuel economy, with the remaining 3 categories covering engine protection. What defines these categories relates to SAPS and HTHS.
What is SAPS and HTHS?
SAPS
stands for
Sulphated Ash, Phosphorus, Sulphur
. All of which are naturally occurring elements in fluids refined from crude oil such as engine oil and diesel fuel.
There is currently a focus to remove these elements from oil and diesel fuel to reduce hazardous emissions and improve fuel economy.
When SAPS enter the combustion cycle on diesel engines, the particles leaving the exhaust will block up DPF's (Diesel Particulate Filters – think of it as an air filter on your exhaust) and CRT (Continuously Regenerating Technology – similar to DPF but it works continuously). The reason for these filters on your exhaust is to capture the black soot and burn it off.
The down side is that SAPS are also antiwear additives, corrosion inhibitors and detergents. New additives are being developed every year to replace SAPS and provide an environmentally friendly lubricant and fuel.
HTHS
is a standard test method for measuring viscosity of new and used engine oils at
H
igh
T
emperature and
H
igh
S
hear by a Tapered Bearing Simulator Viscometer at 150°C.
Oils with low HTHS provide improved fuel economy but sacrifice engine protection.
Low HTHS = 2.9-3.5
Oils with a high HTHS provide engine protection over fuel economy.
High HTHS = 3.5 and Above
To find out what the HTHS is for any of the 300V and 8100 range, go to the Technical Data Sheet (TDS) and look at the physical properties.
For ease of recognition Motul has prefixed all of the 'Fuel
Eco
nomy' oils with 'Eco'. The range includes:
8100 Eco-nergy 5W30
(Full SAPS – Low HTHS)
8100 Eco-clean 5W30
(Mid SAPS – Low HTHS – C2) *DPF
8100 Eco-clean+ 5W30
(Low SAPS – Low HTHS – C1) *DPF
8100 X-cess 5W40
(Full SAPS – High HTHS)
8100 X-max 0W40
(Full SAPS – High HTHS)
8100 X-clean 5W40
(Mid SAPS – High HTHS – C3) *DPF
8100 X-clean+ 5W30
(Mid SAPS – High HTHS – C3) *DPF & Extended Drain Interval
You may notice that there is no C4 (Low SAPS – High HTHS) oil listed and we'll get to that shortly.
MOTUL Specific Range – 100% Synthetic
Next to Motul's 8100 range which has a comprehensive list of approvals per product, Motul also has a specific range which caters for precise OEM specifications and like the 8100 range they carry a letter of approval from the OEM.
SPECIFIC 948 B 5W-20 (Ford Based Engines)
This is a fuel economy oil with a very low HTHS and is to suit late model Ford (Falcon V8), Jaguar, Land Rover, Chrysler, Jeep.
SPECIFIC 913 D 5W30
(Ford Based Engines)
Although this is a fuel economy oil it is Full SAPS, low HTHS oil providing moderate protection. Again this suits the late model Ford, Jaguar, Land Rover vehicle with small engines (1.3-2.5L)
SPECIFIC 504/507 5W30
(VW Auto Group/ VAG)
This is an extended drain interval for VAG based engines with or without DPF. The 504/507 specification is backward compatible with 502/505 and all previous specifications. 502/505 is for short drain intervals. This approval is also found in Motul's 8100 X-clean+ 5W30.
SPECIFIC 0720 5W30
(Renault Based Engines)
Here is the C4 oil we previously mentioned. This is a low SAPS but high HTHS oil. In Australia, the only vehicles requiring this is the Renault/ Nissan/ Infiniti vehicle fitted with the V9X engine.
MOTUL H-Tech 100 Plus Range – 100% Synthetic
The new H-Tech 100 Plus range is a premium everyday oil range suited to late model ADM, JDM and KDM vehicles. H- meaning Hydroprocessed or G3+ base oil.
H-Tech 100 Plus 0W20
- API SN/GF-5 (Fuel Economy Oil)
H-Tech 100 Plus 5W30
- API SN/GF-5 (Fuel Economy Oil)
H-Tech 100 Plus 0W4
- API SN
H-Tech 100 Plus 10W40
- API SN
H-Tech Prime 5W40
In addition to the API SN standard H-Tech Prime carries approvals from Mercedes Benz and VAG for short drain intervals. The ACEA standard of A3/B4 certifies this oil as providing superior engine protection in extreme conditions.
Multipower Range – Technosynthese
Here is the semi-synthetic (Technosynthese = Semi-Synthetic) range suited to older vehicles or vehicles with high mileage requiring API SM or previous API standards SL, SJ, SH.
For pre-1980's engines in vehicles of value which require era-specific oils, use the Motul Classic range which is outlined further on.
Multipower Plus 10W40
Multipower 15W50
Multipower Plus 20W50
All Multipower products carry API SM or SL standards.
MOTUL Historic Range – Era Specific Chemistry
The Historic range is easily recognisable by the classic Motul logo in a black metal tin.
2100 15W50
An updated version of the 1966 Motul 2100, the first semi synthetic oil in the automotive market. This is suited to naturally aspirated or turbocharged engines built after 1970. Also suited to vintage cars and motorcycles.
SAE 20W50
Specifically designed for engines built between 1950 and 1970. It is a multi-grade mineral lubricant with moderate detergent and is compatible with elastomer gaskets.
SAE 50 and SAE 30
These lubricants are suited for engine and gearboxes built between 1900 and 1950. They are a mono-grade mineral oil with a very low detergent level for complete compatibility with paper/ felt/ fabric gaskets.
SAE30 and SAE50 are very high in zinc and have no friction modifiers making them perfect for the running-in of new engines.
Now for the big announcement - New product release for 2015
There is a growing popularity in the use of E85 fuels and even more so now that many states in Australia have it available at the bowser. Significant advantages can be had using E85 fuels which primarily comes down to horsepower. The side effects of using E85 fuels varies depending on what it's derived from (Corn, Sugar or Wheat) and the degree of hygroscopicity (hygro- 'moisture', scopic 'seek out or look for'). Simply put E85 sucks water out of the air and will cause rust, corrosion and sludge in your fuel system and engine internals if neglected. One other consequence is that service intervals are reduced dramatically. If you are having to change your oil 3 or 4 times more frequently, Motul can understand why a more cost effective alternative is what you need.
Motul Sport 100% Synthetic Ester range – NEW FOR 2015!
The release will be accompanied with important technical information on E85 and tools to assist in the choice of oil viscosity.
Stay connected with
Motul Australia – Cars Facebook Page
to get news on the viscosity and technical data as it's released.
If you want to be one of the first to start using Motul Sport, ask for it at any reputable oil reseller or your local performance workshop.
Looking for the right oil for your car? Easy! Go to
www.findmyoil.com.au
Find your nearest Motul reseller:
https://www.motul.com/au/en/resellers
We're here to help!
Can't find an authorised reseller near you? Let the Motul team know. Send us a
PM
!
If you have any questions about any of our products please feel free to get in contact with us.
For more information visit the official Motul Website www.motul.com or subscribe to the Motul YouTube Channel https://www.youtube.com/user/motul