I agree 100% with you guys.
I thought i was the only one that thought Rick is a lil b**ch..guess not
There was no way that Lowndes was playing defensive, or else he would of been up Todd's a*** and f*****d himself up.
Also, there was f**k all space for Kelly to come up underneath Lowndes anyway, so he should have backed off..No idea what Kelly is on about, he had no clear advantage over Lowndes in that corner what so ever!
Even if Lowndes was blocking, why not let it go and let the stewards deal with it? What gave him the right to take it upon himself to sort it out?
They say racings racing with 3-4 laps to go, not 2 laps into the race!
One thing that looked a bit sus about it, was Kelly got given the drive through, but he was calm about it, as if it was premeditated. Even his cheif engineer was calm about it
Lil prick! Meh, still, Lowndes won the championship at 21, not 23! Love that guy!
Not sure how Lowndes will win back the title but. Unless they disregard the 3rd and final race. After the 2nd race, Lowndes and Kelly were tied on points, thus making Lowndes the champion on round wins.
Thats the only thing i could come up with
_________________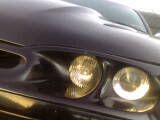 Last edited by doofus on Mon Dec 11, 2006 4:07 pm, edited 2 times in total.