Skaife was never really gonna win this race, but look out for him at Bathurst ,the main reason the car was falling apart was- HRT couldn't find the "sweet" spot on this track this time, so they done what any good team would do, use a car that is set up close to what they would use in qualifying, hoping they could learn more as the race went on & hoping like f**k hell there would be dramas and/or weather changes so they could keep the tyres up to the beast.
But all ended well ,with the right make crossing the line first!
p.s I dislike Skaife as much if not more than any one ,but the man is still a top steerer as is Todd Kelly, I think Stone brothers were mad to let him go by?
_________________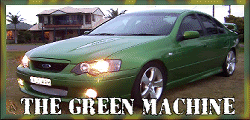 IF YOU HAVE IT UNDER CONTROL
YOU SIMPLY DON'T HAVE ENOUGH POWER!!!
Detroit 8V71 for sale, taking offers