Hello Fordmodders,
I'd like to draw your attention to a new feature on the website, topic tagging! In all technical forums you will have the option to select what model range best describes the content of your post. Topics which have been tagged will appear as such;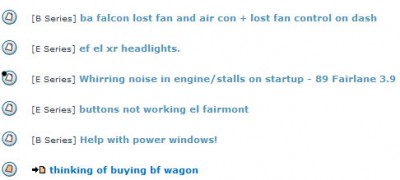 Many BA/BF users complain they have to sift through E-Series topics to find the good stuff, and vice versa. Topic tagging brings us once step closer to helping everyone find the exact topics they're interested in.
So please remember to add the tag when creating a new topic! The tag selection looks like this;
The next phase will include the option to FILTER forums to display only the model range you're interested in.
Feedback welcome. Enjoy!
Attachments:
new-topic.jpg [ 20.37 KiB | Viewed 74543 times ]
topic_tag.jpg [ 23.25 KiB | Viewed 569 times ]
_________________
WAG363: AUII LTD Supercharged 363 Dart Stroker [Supercharged 363 LTD Build]
WAGGIN: 2012 Volkswagen Passat Wagon - V6 4Motion.