$10,000
I am looking for a new master for the "b**ch"
mods include, holley systemax1 lower manifold, 10mm alloy spacer, polished (outside) & ported HO upper plenum, custom crow cam, geardrive, tall alloy rocker covers, bosch motorsport 30lb injectors, adjustable regulator,procomp high output coil, difillipo stainless 4-1 headers heatwrapped, dual 3" cats into twin 2 1/2'' Y pipe then into single 3'' custom system, BTR 97 shift kitted auto, 3.45:1 lsd, proM 75mm flanged maf on ford airbox, polished (inside) 65mm AU throttle body, body in top condition with aftermarket kit, 17x8'' wheels? don't know what sort but look good!, slotted front rotors, new kYB front struts, X police vehicle (not chaser) with no speed limiter and probably a few things I have forgotten about, the car has recently been de tuned a little but still has over 210 hp at the treads, engine only needs cam change to make 270+ again. oh and the heads are E7s with extreme port work capable of 400hp+. Must go by May 4th or will be used as a trade in.
any questions will be answered honestly.
cheers kenny
Attachments:
E7TE inlet port.jpg [ 60.48 KiB | Viewed 35 times ]
Exhaust port.jpg [ 37.59 KiB | Viewed 36 times ]
motor unfinnished.jpg [ 70.31 KiB | Viewed 44 times ]
our car.jpg [ 69.51 KiB | Viewed 43 times ]
_________________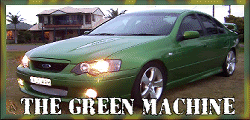 IF YOU HAVE IT UNDER CONTROL
YOU SIMPLY DON'T HAVE ENOUGH POWER!!!
Detroit 8V71 for sale, taking offers