Item Summary:
3x ex boosted 4L fords ED, NA, NC 3 incomplete cars ready for build into 1.
Location:
QLD: Brisbane
Condition:
Used
Reason for Selling:
Not enough time to finish Project.
Asking Price:
7500
Delivery Methods:
PickUp
Contact Info:
Call or SMS 0408736812 or PM me
Extra Information:
So here it is...
I have finally come to the realisation that I do not have enough time to build another drift fairlane!! In true TDW style we really only need a few solid days, but it appears that I can't even muster that up!
So here it is, I am keen to sell everything that you need to get 1 awesome boosted falcon. I just don't have the time to do it myself.
Car 1:
NA SVO Fairlane. This is what this car used to be like:
[url="http://www.boostedfalcon.net/viewtopic.php?f=3&t=7599&start=80"]http://www.boostedfalcon.net/viewtopic.php...99&start=80[/url]
This car is now in pieces, we have taken the diff out, cut the front off, taken the motor, box and ecu out. All parts have been taken off this already, and it is full of old car parts ready for the scrap yard: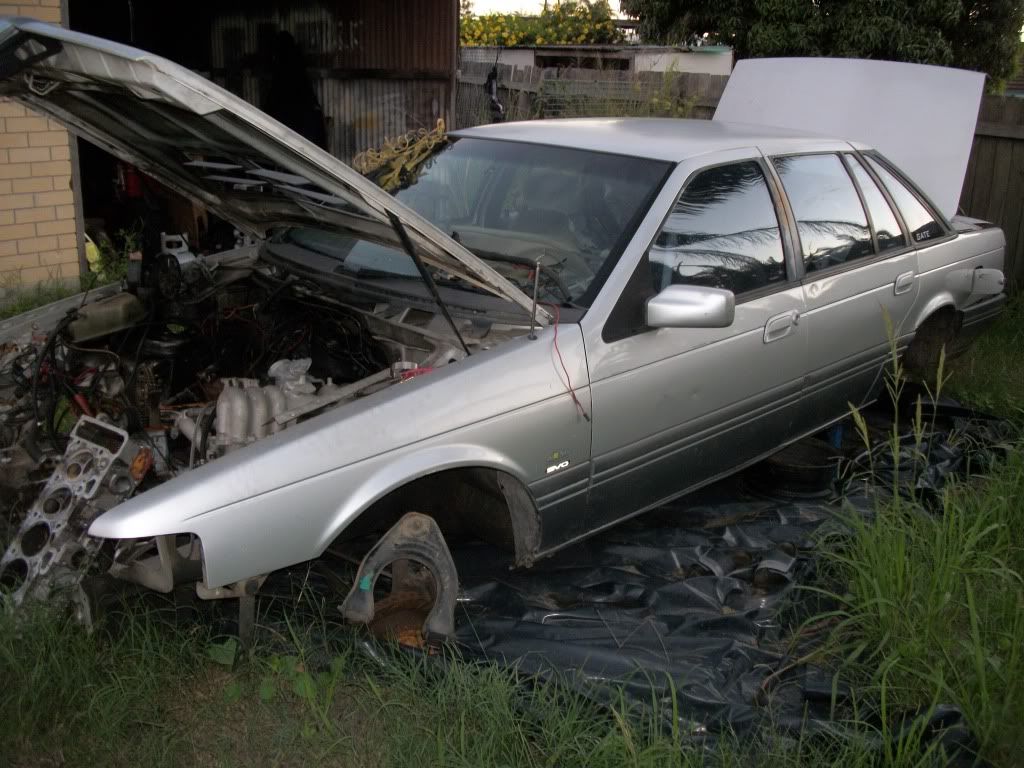 The good parts that have come from this car are:
Microtech LT10s ECU with HUD
Wiring harness to suit boosted falcon (except sensor plugs have now been cut as were part of standard harness)
X6 sequential spark addon, 6 seperate coils, wiring etc
a set of 0.8mm spark plugs < 5000k
60lb injectors < 5000k
a Bosch 040, 1 Bosh 044, (one in tank, one after surge tank)
a surge tank & hoses
boost tee
4.11 diff with rebuilt centre gears and minispool. (Diff housing modified to suit failed hand brake attempt)
5 puck brass button clutch
t5 gearbox, built by jesus himself
all required intercooler piping, intercooler, brackets and hoses.
1 TDW 'custom' turbo manifold
2x Xs Power T04E turbos, 1 in good condition, 1 in fair condition. Both work very well
All required oil lines (braided)
All Original SVO standard components:
4x SVO Mags (2 with brand new tyres, 2 bald) , Sway Bar, Momo Steering wheel, extractors, SVO manual etc...
3 inch dumped exhaust (only good for track)
A set of 3x guages and pillar pod
Car 2:
ED XR6 Turbo. This car cost me an absolute fortune, as there were no expenses spared. This is what the car used to be like:
[url="http://www.boostedfalcon.net/viewtopic.php?f=3&t=11423"]http://www.boostedfalcon.net/viewtopic.php?f=3&t=11423[/url]
This car has been damaged and marginally stripped. It is missing: Wheels, turbo, dump pipe, cooler pipes, fuel reg, fuel pumps, injectors, Bonnet, FR Guard and door: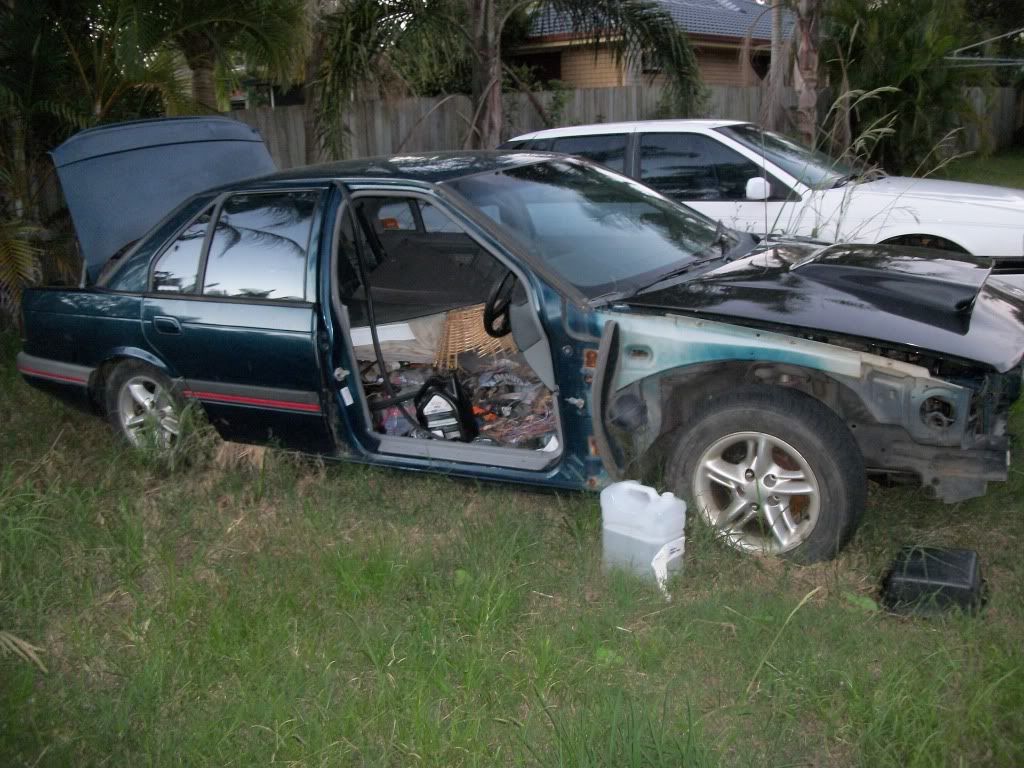 The good parts that come with this car are:
EMS Stinger 4424v4, Still intact with wiring harness complete (used to make 260kw)
a set of pedders custom suspension (sat and drove perfect, coil overs for the front, very low for the back)
Battery relocation kit
3 Inch mandrel bent exhast, no cat (up to dump pipe)
t5 gearbox
an exedy 8 puch cussioned button clutch
3.45 LSD diff.
Slotted rotors all round
ED XR6 Engine:
Fully rebuilt
ACL 11cc dishtop Pistons 30thou over
Standard rods held on with ARP Rod Bolts
Fully balanced
AU MLS Headgasket
Atomic Head Stud Kit
Clevland 140 pound valve springs
Crow retainers and locks
Wade 977b
XR6 Tickford Head
Not long before I stopped driving it the motor lost 50 psi compression in #5, So I am assuming this would be 1 ring or valve. This wouln't cost much to fix.
a Snort turbo manifold
a set of braided oil lines.
a set of Boost and AFR guages that suit ED XR interior
A 3" thick wall tailshaft to suit this car with a t56/z
Oil cooler and fittings
Car 3:
Revengelanes old TT Fairlane Rolling shell.
This car used to be like:
[url="http://www.boostedfalcon.net/viewtopic.php?f=3&t=7599&p=274197&hilit=revengelane#p274197"]http://www.boostedfalcon.net/viewtopic.php...ngelane#p274197[/url]
The car is still in imaculate condition and is completely unadulterated. The body is perfectly straight, the interior is perfect, it is mod plated for a turbo and is ready to be boosted!
This car currently has already installed:
king spring ultra lows all round
a set of Bilstien front shocks in the front and a set of koni reds in the back
It has a standard fairlane diff in the rear.
This is the cleanest fairlane around.
I also have a spare ED Tickford motor that can go with it, Shaved head with ported valve chamber. That can go with it too.
My goal was to take majority of the driveline, fuel system and ECU from the NA fairlane and the motor from the ED. This would be good for an easy 300kw atw (once the ring in 5 is fixed). I am fairly certain that everything that you need plus more is here to build a hell of a machine!
I am looking for 7500 ono for all of this, to be moved at buyers expense. The buyer will not be dissapointed with the end product.
Here are pictures of some of the stuff:
[url="http://i239.photobucket.com/albums/ff15"]http://i239.photobucket.com/albums/ff15[/url] ... 0_0222.jpg
[url="http://i239.photobucket.com/albums/ff15"]http://i239.photobucket.com/albums/ff15[/url] ... 0_0220.jpg
[url="http://i239.photobucket.com/albums/ff15"]http://i239.photobucket.com/albums/ff15[/url] ... 0_0218.jpg
[url="http://i239.photobucket.com/albums/ff15"]http://i239.photobucket.com/albums/ff15[/url] ... 0_0216.jpg
[url="http://i239.photobucket.com/albums/ff15"]http://i239.photobucket.com/albums/ff15[/url] ... 0_0215.jpg
[url="http://i239.photobucket.com/albums/ff15"]http://i239.photobucket.com/albums/ff15[/url] ... 0_0213.jpg
[url="http://i239.photobucket.com/albums/ff15"]http://i239.photobucket.com/albums/ff15[/url] ... 0_0211.jpg
[url="http://i239.photobucket.com/albums/ff15"]http://i239.photobucket.com/albums/ff15[/url] ... 0_0210.jpg
[url="http://i239.photobucket.com/albums/ff15"]http://i239.photobucket.com/albums/ff15[/url] ... 0_0209.jpg