Price= $1500
Selling my Race Brakes kit from my EL. It uses a modified upright, AU twin piston callipers and a EL GT style rotor. This has been an excellent kit with no issues on fitting. It keeps the factory offset.
This particular kit was engineered to my vehicle so was 100% legal.
What you get,
Two sets of disks both machined ready for use. One set is slotted with just above minimum or on minimum thickness, the other is plain with 27.5 mm from memory.
RBS modified uprights with ball joints, ball joints worked well however getting them out of car some of the boots got ripped. So should be replaced but up to purchaser.
The uprights have the holes for abs.
AU series 2 callipers with Ferodo formula pads, very good pad but makes more dust. Pads are 1/2 to 3/4 full. Callipers were new when I purchased kit and put approx 30k on them
ADR approved braided lines, these are possibly the same as the RBS kit however I had these made up so they had the correct rubber seal on them for engineering purposes.
I have the old bearings that I can put with it but I can't imagine many people wanting to put old bearings in even though there was nothing wrong with them..
Brackets and bolts for callipers to brackets to uprights.
I have people interested in splitting kit to just uprights, I'd prefer to see how it sells as a kit first befor I consider that.
Photo is when I had just installed new disks and pads, more photos can be easily added just tell me what you want to see.
Note: with the Formula pads, I noticed that the inner edge was starting to break away from itself, kind of like crumb sections pealing off. It never happend with the stock pads in there. I didn't notice any changes in performance but feel I should add this information.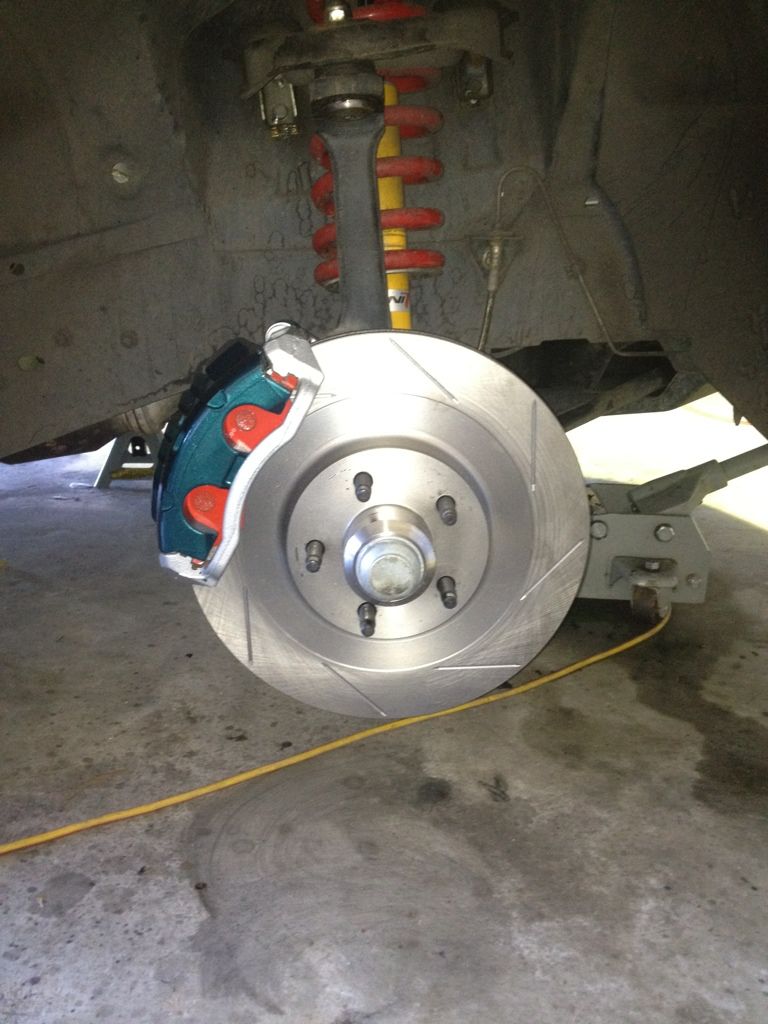 _________________
EL XR8 II Manual, Ported GT40P's, E303 cam, Au220TB, 70mm MAF, HiFlo Cats, Tune (215rwkw) and some bigger brakes