Hey Guys posting this on behalf of a mate.
This car has to go as he is moving house and it is on the lawn
About the car
Car is very clean inside car runs on gas and petrol. Interior is very clean but has some wears and tears in the usally places but the seats are all good. Car has just had dizzy, coil pack, plugs and leads replaced on it. Has Also got towbar,clear front indercators, trip computer, and the 4speed auto being a spack. Car has pioneer cd player and 6x9's in the rear. Gas is still in date till September this year.
The problems with the car
Paint is fadded on the bonnet and a little on the roof. Car is not running there was a electrical malfuction somewere in the car was driving along then there was a pop and the car just died never to return back to life, had a quick look under the bonet and i can see there is a wire that may have shorted out somehow. Car was running fine up until this happened. I dont have the time to fix it could be as easy as replace the wire and she will run again. Car will be sold with the reg but no rwc. If you were to get the car running then for rwc i would say to front tyres and the front disks and pads apart from that doesnt use oil or water and it has never done a head gasket. Car can be viwed in Sydenham Vic and i can be contacted through here or via email
dj_vass@hotmail.com
.
Price will be $400 as i need it gone rearly a bargain if it is a easy fix and keep in mind that is on gas and it will come with reg so if you have a spare ea sitting at home you may be able to use the parts off that and fix this one.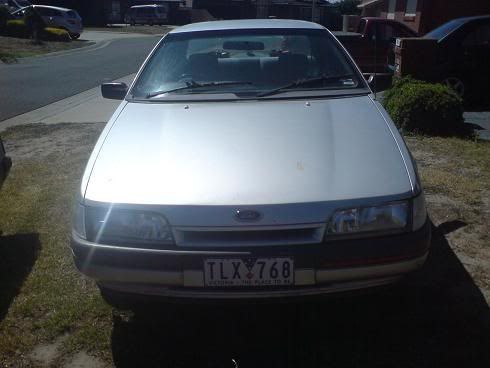 _________________
EL Fairmont - GT steering wheel -3.45 lsd - superlows - white line sway bars - xr kit - au11 xr8 engine - 3500 convertor -BA XR8 leather interior - ltd woodgrain - di filippo extractors - trick flow track heat manifold - tfs1 camshaft - twin 2.5 inch system venom cats hooker mufflers - 187rwk
Last edited by stoj79 on Thu Mar 20, 2008 12:25 pm, edited 4 times in total.