I have bought a Hilux and been told that I'm not allowed to keep this as a track car
I bought this car stock and here is how it stands.
1999 Series 1 AU Falcon 'S'
Factory optioned IRS & 3.45 LSD
Factory optioned Tickford Kit (with tickford build plate)
Came with xr6 seats (I believe) as standard and interior is EXCEPTIONALLY clean - one tiny rip in gear shifter boot and no other rips/holes/marks. I clean all seats and carpet all the time. I also don't smoke.
Darkest legal tint.
Leather steering wheel in VGC that came standard
Manual - I converted it approximately 25,000km ago, t5 has been rebuilt prior (it is still tight to use, all changes feel good), a new Sunbury Brakes Clutch was put in at the time which isn't too heavy (approx 10% heavier than stock) and doesn't slip, alloy tailshaft, Series 1 manual ECU, auto loom is still there in case someone wants to change it back
I also made an absolute masterpiece of a pedal box which boxed in the clutch arm, so no cracking.
17" Ba Fairmont wheels painted matte black - I hand sanded each bastard, undercoated twice, then did 3 coats of matte black Killrust. Was done over 6 months ago and no flaking.
235/45/17 Pirelli P Zero tyres on the front (90% tread RRP $235 each)
255/40/17 Bridgestone Potenza RE050A on the rear (greater than 50% tread RRP around $380 each I believe)
Pedders sportrider springs (near new) and KYB struts (brand new) just fitted to the rear, I have them also to go in the front with a SuperPro shim camber kit and can fit prior to sale (currently xr6 height springs that came standard). Also have towing springs to go in the rear which came with the car.
Pacemaker 4480 headers, 2.5" 400cpi metal core cat. I built the exhaust, it is 2.5" with a 12" hotdog and Hooker Aerochamber muffler. Doesn't drone and has a really, really nice tone for otherwise stock engine.
Yellow top gel battery.
Clarion DVD headunit with iPod connector, Clarion 2ch amp and Hertz 6.5" splits (hidden behind front door). The 2ch amp is hidden under the front seat. All wiring is quality gear - from memory all Stinger including RCA's.
I actually don't remember if there is anything else.
Nitty gritty:
210xxxkm - I surf A LOT and since I have owned it can say over 50% of these km's were done on the highway. I still get over 650km out of a tank on the highway @110km/h and around 400 depending how I drive around town. The coolant has not been flushed since I bought the car at 143,000km and there is very close to no brown s**t in the reservoir tank (I have seen BA's with 50,000km with that crap).
Air con works 100% like a charm - very cool, very hot.
Receipts for services every 10,000km since I bought it (at 143k from memory, from 55 year old second owner 100% stock except for tint)
Receipt for new front rotors and Bendix pads, I think approx 10/15,000km ago
Receipt for handbrakes being rebuilt approx 20,000km ago
Downsides
1)Roof lining has started falling & corner of one rear window tint has started peeling.
2) I reversed into a flowerbed reverse parking about 12 months ago - I will get photos and post them up. I sanded back the damaged area and hit it with grey killrust but haven't got around to having someone fix it.
3) I reversed my dad's car with towbar into the front right. To fix it needs marginal work to bumper support, a new white plastic thing behind it bumper skin, new bumper skin and RH headlight. I nicked a cheap copy headlight off a friend for the time being. The tickford lip was not injured
Aside from the above the paint is in VERY good condition. It is garaged and I paint and polish it A LOT. There is absolutely no clear coat peeling and only a few tiny dints/scratches.
Price: $2500 as is
It is still registered and I will get a service if new owner wants prior to selling (isn't due for another 2000km).
My name is Nick, I am located in The Gap (10km out of Brisbane), mobile is 0412 767976 or PM me here.
Pic from about 8 months ago at old height.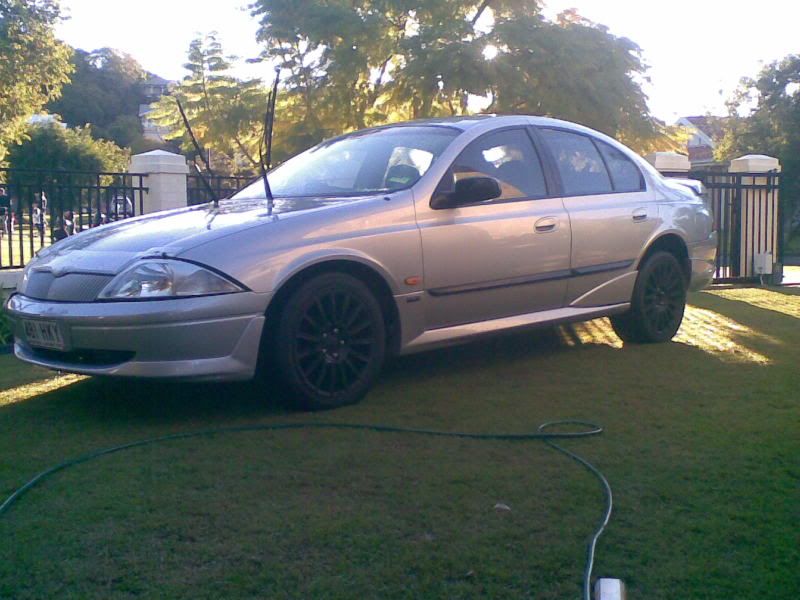 Current height
Extent of Front Damage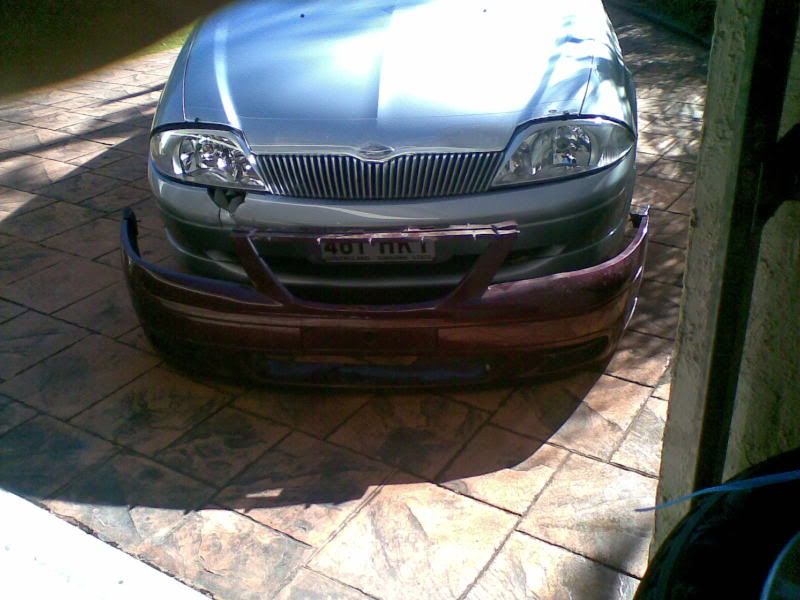 Headunit, splits, inside
Exhaust tacked up while making it, note that it goes all the way through now to stainless steel VE SS commodore tip
Sorry about crappy phone photos - I will try and get more pics that actually show how good the paint is for a 13 year old car.
_________________
EVL098 wrote:
Cramping in the hand from having it on your Wang for an excessive period of time is a definate con.
Seriously do people google "f**k up modifications for Fords owned by Jews" and get linked straight to this site nowadays?
AU,factory fitted tickford kit/IRS, t5,Sports ryder/KYB: gone.


Last bumped by skidder on Thu Apr 19, 2012 11:46 am.