Item:
Starcorp Elise 19
Price:
$900
Type:
Part
Condition:
Used
Description:
I have gone for a new set of wheels, so my old set are up for sale.
Set of 4, 19" x 8" Starcorp Elise Wheels on Hankook K104 245/35/R19 Tyres. Very good tyre, with an average of 3mm - 4mm of tread left till the tyre wear indicator.
Unfortunately there is a gutter scrape on what was my front passenger side, and has scuffed the outside of the tyre slightly.
If the buyer is interested, I can get the damaged wheel repaired for an added cost.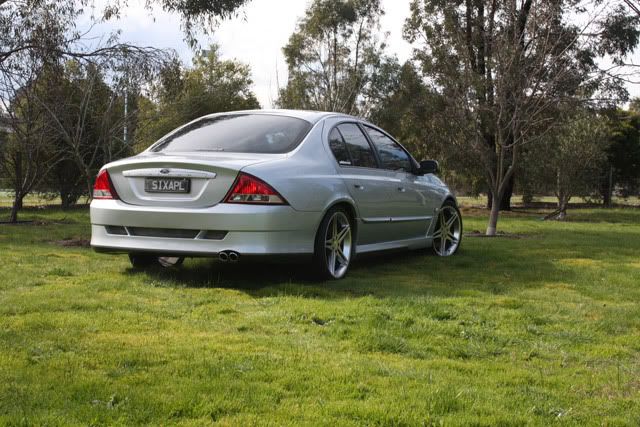 ---------------------------
MORE PHOTOS
For more detailed photos, including measurements:
http://current.redstardesigns.com.au/car.zip
(39mb)
I tried to clean them up as best I could, and give you a proper photos of each wheel, tyre and anything i found to be of concern.
The number of the photos are from what they were taken off as. But they have been rotated once since they have been on. So tread wear is even.
239 - 242 - REAR PASSENGER
243 - 246, 258, 260 - FRONT PASSENGER
247 - 251, 261 - FRONT DRIVER
252 - 257 - REAR DRIVER
I did take photos of the back of each wheel, just to show you that there are no cracks or dents. The rust and paint wearing, is normal for a wheel, as you know.
257 shows a small mark, which I found... smaller than the white tip of your finger nail, on my rear driver's side.
258 shows the small piece of tyre removed from the sidewall, which is nothing at all to worry about.
259 all the nuts and bolts I have. Should be enough to fit them on. Also included was the lock nuts. Up to you if you want to use them or you have others you want to use.
260 shows, that because of the scrape along the gutter at ~20km/h that it has actually rubbed the top of the tyre, making it low on the outside of the tyre. The centre of that tyre has 3mm to the tyre wear indicator.
261, just gives you an indication of the FRONT DRIVERS sidewall, you can see it is much better. And that the the FRONT PASSENGERS is only low, because of the scrape. The centre of that tyre has 4mm till the tyre wear indicator.
---------------------------
I am located in NE Melbourne, around the Diamond Creek/Greensborough area. I am happy to arrange some sort of deal with a courier. And I will drop the pressures, and package them up for couriering for you.
Thanks
_________________