State : VIC
Make of vehicle : Ford
Model of vehicle : Falcon XR6
Year of manufacture : 05/2000
Colour of vehicle : Winter White
Engine : 4.0L HP XR6
Transmission : 5 Speed Manual
Body style (sedan, wagon etc.) :Sedan
Selling Price $ : 9000 ONO
Odometer Reading : 156XXXkms
************************************************** *****************
Other relevant information.
Location: Warrnambool
Make: Ford
Model: AUII Falcon XR6
Year: May 2000
Colour: Winter White
Engine: 4.0L
Transmission: Manual
Body Type: Sedan
Odometer: 155XXX
State: Warrnambool, VIC
Price: $XXXXX ONO
Rego: UHE908
Vin: 6FPAAAJGSWYC59897
Eng: JGSWYC59897
May 2000 AUII Ford XR6 Falcon
I Purchased it from Horsham at Max Wright Cars 9/5/2010 @ 133629km
Vehicle is an Ex- Department of Human Services, purchased from Strapp Ford, Doncaster 19/06/2000
Partial Service History shows it was serviced at Eclipse Ford Sebastopol up until 1/8/2002 @ 59685km's
I'm not entirely sure how many owners it has had but there are another 2 services recorded which were done in the Ballarat region, whether they were done by the Department of HS or not I am not sure.
The service record goes up until the 13/6/2004 @ 98404km's (last service)
There is then around 30,000km's unaccounted for in the service book, I am lead to believe the last owner was a Horsham Coles manager with a young family.
As you can see this car has had a very easy life!
The used car dealership also got it serviced once it was traded into them 24/2/2010 @ 133,103km's
Once I purchased it I have done the following:
4.0L HP engine running Dual fuel via an Impco ring mixer system converted @ 136
5 Speed Manual with a Brand new Excedy clutch @ 135
Brand new copper radiator with fresh Nulon coolant, Tridon thermostat and Mackay radiator hoses done a few 100k after the radiator was fitted. Also fitted new NGK spark plugs @ 137
Service @ 140- Valvoline Engine Armour 15w-40 Engine, Castrol VMX Gearbox oil and Nulon Fully Synthetic LSD Diff oil changed, with a new Ryco oil and air filter.
New NGK spark plugs leads and ACA coil pack @ 142
New Lukey standard center piece of exhaust @ 144
New Boge rear shockers @ 147
Service @ 150- Valvoline Engine Armour 15w-40 Oil, Ryco oil filter and NGK Sparkplugs
New Boge front struts & UCA Balljoint @ 152
I have the standard 16" wheels which have Nexen tyres and I also have 4x 18"x8 Tickford Azzuro wheels which will clear Brembo brakes which have got 2x Brand New Sailun Altrezzo, 1x Federal Superstreet(80%) and 1x Brand New Hero Milanza. I purchased the wheels with the Federal almost brand new and the other tyres being barely roadworthy.
I also have the old radiator hoses as spare if I was ever to go on a trip and a full set of Bendix Ultra Premium brake pads for the front and rear. There is also another Ryco oil and air filter in the shed. I also do have a set of Kingsprings Superlows for the front and rear.
The car is Standard apart from the wheels and gas conversion; it doesn't have any Tickford options as it was a government vehicle I believe. It's a great car butI am selling to buy a Landcruiser so that I can go trekking up further north without the worry of leaving half the car down a corrugated road.
The cars paint work is in reasonable condition for a country car but has a few marks and the front bumper hasn't got the greatest paintjob. I have also removed the badges and mudflaps which revealed a fair amount of touch-up paint and wear particularly from the mudflaps.
The interior is in very good condition except for the RHS of the driver's seat from getting in and out of the car and the Speedo lense has a small crack in it.
The engine doesn't miss a beat and I have never regretted the LPG conversion. Gearbox is also nice to drive with and clutch engages and disengages fine. The LSD is quiet and seems to do its job perfectly. I can get over 500km out of a tank of gas on the open road and have never used petrol on a trip. Typically you can expect around 350km around town from about 60 litres of gas. The car starts on petrol for around 3 seconds before flicking over to gas and I have generally always used $20 of 98 octane whenever available and replenished every 2-3 tanks of gas.
I have just about every receipt for anything that I have done to the car! It is negotiable as to whether you want both sets of wheels or one but it will involve extra money! The car has almost 12 months rego and I will be looking into a RWC for interested buyers, but until someone shows a bit of interest I will continue driving it to and from uni, work and alike.
For any information, pictures or a contact number please PM me! NEGOTIABLE!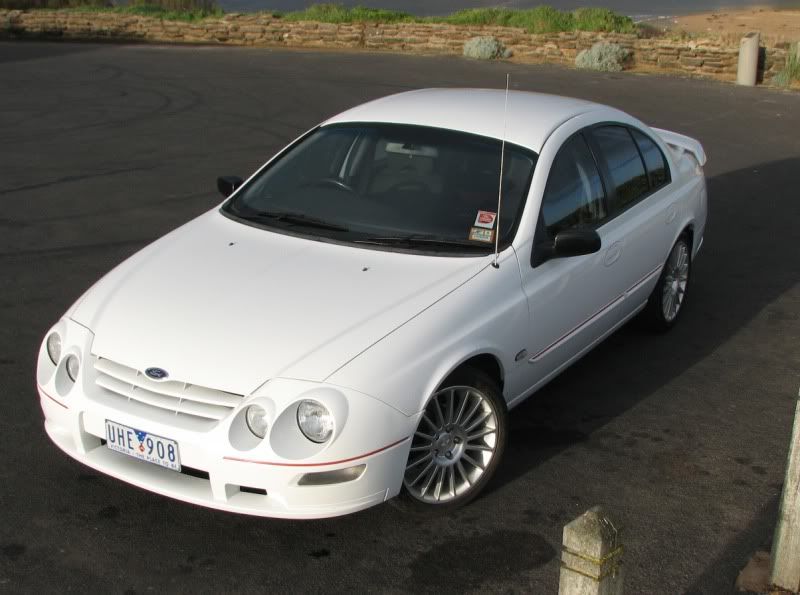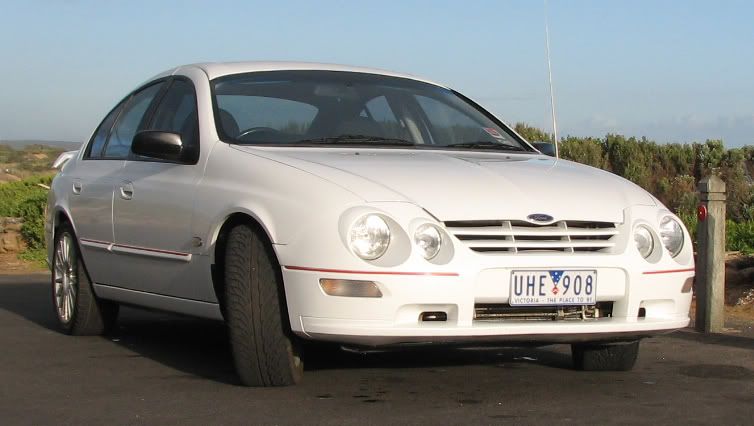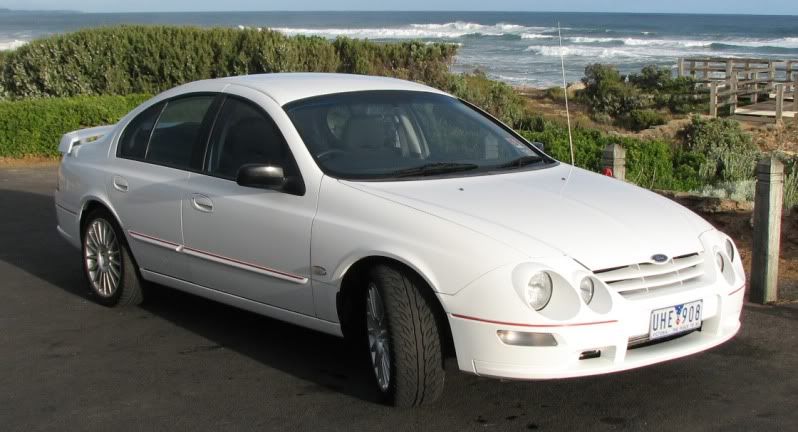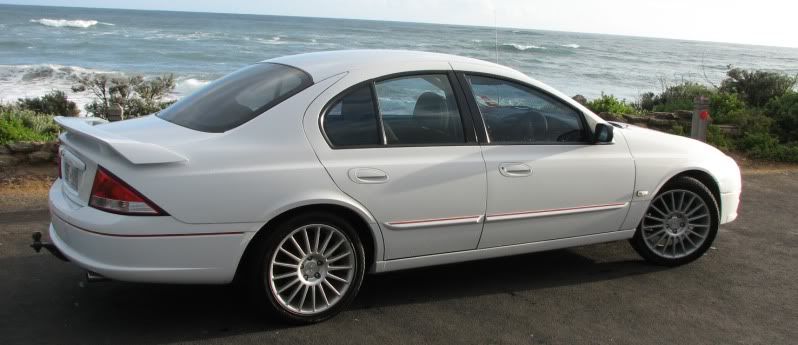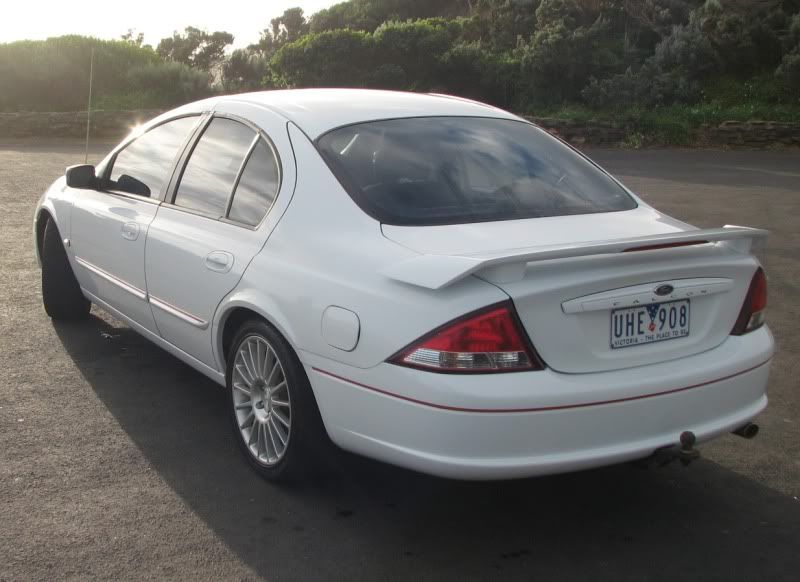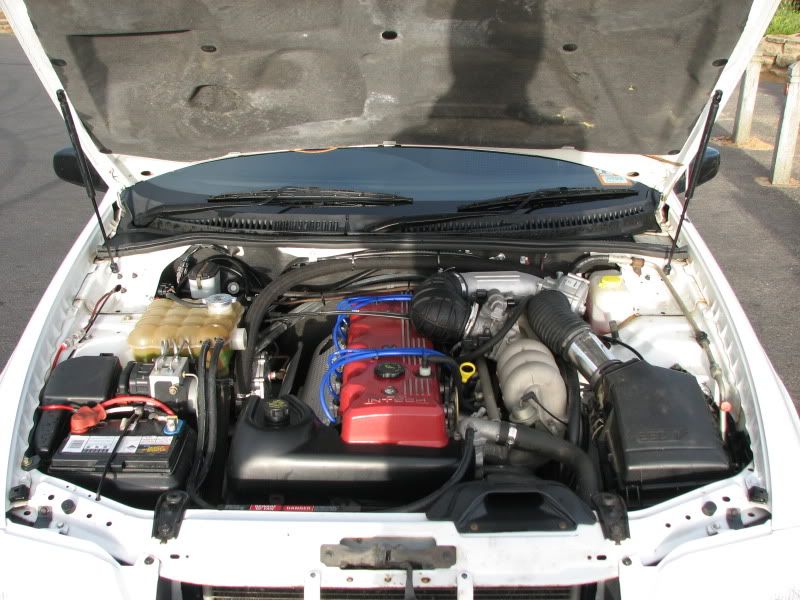 _________________
Stevo
_____________________________________
05/2000 AUII XR6 5sp|Tickford Azzuro's|Impco LPG Conversion

WANTED: Pacemaker 4480 Competition Headers EA-AU 6 Cylinder