For sale, Pickup only from Rosebud, Victoria.

68cm Centrex Colour TV with remote: $150
Features: 68 cm Colour Picture Tube, AV Stereo, Sleep Timer – Auto Power off no signal, Hyperband Tuner, NTSC Playback, 3 AV Inputs, S-Video Input, Component Input, Front AV Input, Auto Channel Seach, Remote Control, 3 Year Warranty, Dimension (W*D*H)mm 766*492*576
Omni 5.1ch DVD player and satellite surround speakers + woofer: $150
Features: Progressive Dual Decoder DVD Player with AM/FM Radio, Karaoke, 210w RMS Amplifier Inbuilt, 5.1 Speakers (30W RMS Satellite + 60W RMS Sub-Woofer)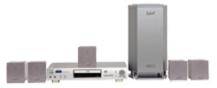 As stated $150 each or $250 for both.
_________________
Cougar Zero makes my pants fit nice.