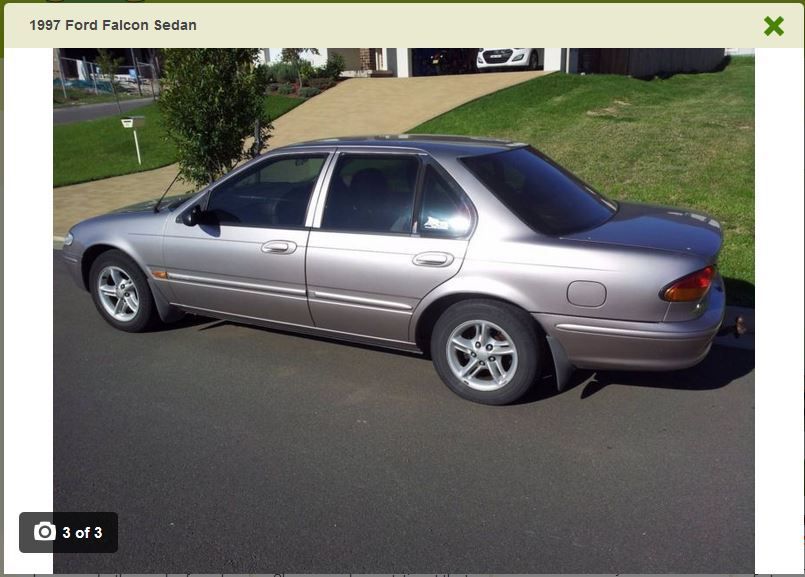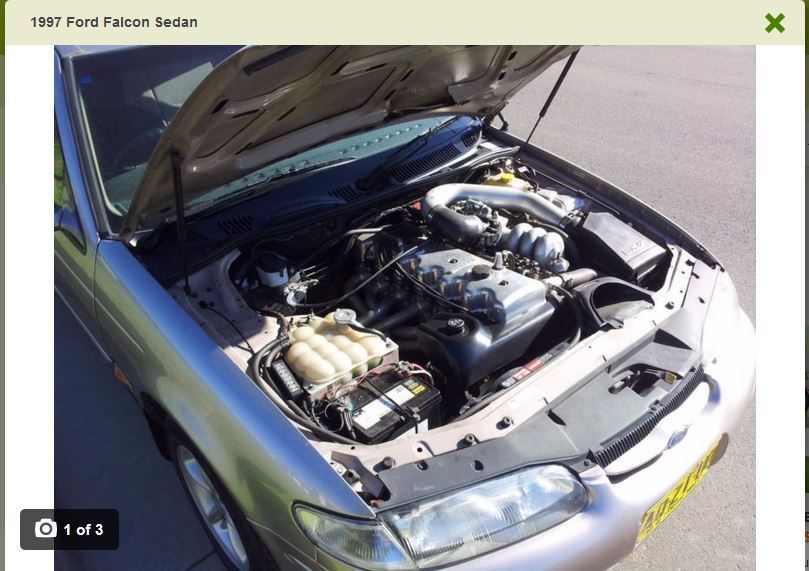 Location: Gillieston Heights NSW
Kilometres:
290,000
Transmission:
Automatic
Drive Train:
Rear Wheel Drive
Fuel Type:
Dual Fuel
Colour:
Mocha
Air Conditioning:
Yes
Registration Number:
AQ21UO
Registration Expiry:
5 months - 01/10/2015
Already have family car and this one needs to go.
Heavily modified running gear with stock sleeper appearance.
Save money on fuel cost but not sacrifice power.
Approximately 425km per tank (68L) with 145kW power on LPG!
I've recently replaced alot of parts with new. Big folder full of receipts and documentation for everything.
Engine
EF - Tickford Head (shaved at reco)
Wade Cam – 1673
Vernier Cam Sprocket
AU – Multi Layer Steel Head Gasket (slightly higher compression ratio)
Ceramic coated Rocker Cover
Bottom end replaced from lower kms engine (approx 160k at install).
Blasted, painted with new brass welsh plugs.
New oil switch
Spare EF XR6 cam
Coolant System
New water pump, dual row brass⁄copper radiator, bottle, all hoses, heater tap and thermostat.
Fuel
King – sequential vapour injected, ECU controlled LPG system (LPG ECU reads factory ECU to make fuel trims etc.)
Custom thermal insulator plate for Intake Manifold with integrated LPG injector nozzles
AU Fuel Injectors (quad spray pattern)
Recently replaced petrol filter
Petrol injector rail blasted and chemically cleaned same time as L.P.G system fitted.
Spare XR6 300psi fuel reg.
Air Intake
4" Aunger air intake snorkel
Holley cotton panel filter (K&N style)
BA – 3" Mandrel bent alloy intake pipe
Polished throttle body
Spare 3" fittings. Mandrel bent alloy and silicone.
Exhaust
Pacemaker 2.5" 4480 ceramic coated competition extractors
Stainless Steel 2.5" Hi Flow Metal Catalytic Converter [100cpi]
2.5" Berklee Cat back Sports Exhaust System
Ignition
Crane 6000-6445 HI-6 ignition with LX92 coil
Ford 5.0 Dyna Module (distributor TFI)
Eagle Heavy Duty 8mm LPG ignition cables
New battery with brass multiple screw clamp terminal
ECU
SCT Eliminator chip (dyno tuned to balance LPG 140kw and Petrol 145kw)
Also have J3 chip, reader module and software (not fitted)
Digital hand held EEC V diagnostics code reader
Transmission
Adjustable shift kit (no transmission slip between gears)
Front mounted oil radiator
Recently replaced reco auto trans
Brakes
New Brake booster and Master Cylinder
Braided brake cables
RDA - Slotted rear and Dimpled⁄Slotted front discs
Front callipers reconditioned with new pistons and seals
Steering
New power steering pump and pressure switch. Seals replaced on hose.
Suspension and Wheels
White Line – 30mm extra heavy duty front sway bar, link pins and bushes
EF – XR6 15" Alloy Mags
Inspections welcome.
$3,300
All reasonable offers considered.
0415 684 089
Last edited by fitz on Fri Jun 05, 2015 11:05 am, edited 1 time in total.