Righty wrote:
As far as i'm aware, the larger one is called the "Tickford XR" wing, and the small one is just "XR". Because as just stated, to ahve the larger one you need the rest of the tickford body it. There's an EL XR8 next door from me, that doesnt ahve the body kit, and just the small wing.
I think you are right on this one as I have an EL XR8, but was built with police kit (whether this makes a difference??) & only has the small one
but for ID, on the manufacture sheet it is denoted as X in the spoiler option box.
_________________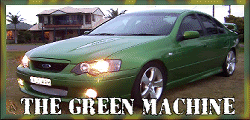 IF YOU HAVE IT UNDER CONTROL
YOU SIMPLY DON'T HAVE ENOUGH POWER!!!
Detroit 8V71 for sale, taking offers