twr7cx wrote:
Pitty it'll start getting expensive when you want to start playing with the engines. I mean to replace all 4 cams and that is going to cost a pretty penny, think I read somewhere Crows cost $1,600.00 for the cams. Should be worth it but!
The standard cams have been proven to be good enough to make 468kw at the treads!!!, as are the rest of the internals.
But if you were gonna change the cams, it would be better to have tthe originals custom ground to suit the application, eg blown, torque,high rpm durations etc. and usually 1/2 the price
I am currently looking at the SVT cobra centre mount "alternator" if i'm gonna do it, simply cos of the cost efficiency, $1000 for the blower, $300 for a gilmor drive kit, and $400 for bigger injecyors IF required, then $400 for a couple of hours on the rollers to get it all in sequence! 400kw
maybe upgrade the oil and fuel pump too as usual
why would you play with a windsor ever again!
_________________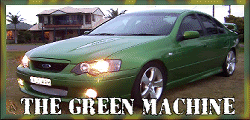 IF YOU HAVE IT UNDER CONTROL
YOU SIMPLY DON'T HAVE ENOUGH POWER!!!
Detroit 8V71 for sale, taking offers