I'm now completely "over" the 5.0 windsor engine, after recently spending no more than $2500 on the "better" parts to fit to the new toy.
All that I have done is change the exhaust, fit some better plugs, a cooler thermostat,cold air, air filter and the best investment a Flash tuner to custom tune it, and am now getting around 260kw at the wheels.
For the same type of power on the EL XR8 I just traded, it cost me atleast 3X that amount, and still was not even in the same league with torque and low down grunt.
Just try and imagine what the next generation boss motors will have going for them, I hear ford engineers are currently experimenting with VCT ,and possibly a SCT blower from the states which will sport around a modest 400kw with only 6psi of boost?


You do not have the required permissions to view the files attached to this post.
_________________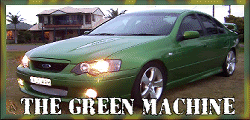 IF YOU HAVE IT UNDER CONTROL
YOU SIMPLY DON'T HAVE ENOUGH POWER!!!
Detroit 8V71 for sale, taking offers