Hey all,
Yes it's me again ...the KING of silly questions...
As most of you know, I've got the JMM Dev 5 upgrade in my EL XR6 ...basically DEV 5 cam, race ported head, JMM race headers & zorst, JMM ultra-intake etc.
This set-up runs off the stock ECU, idles fluctuates a little, but otherwise runs OK.
Last dyno was done by Jim Mock (see below), showing 180rwkw in 2nd gear.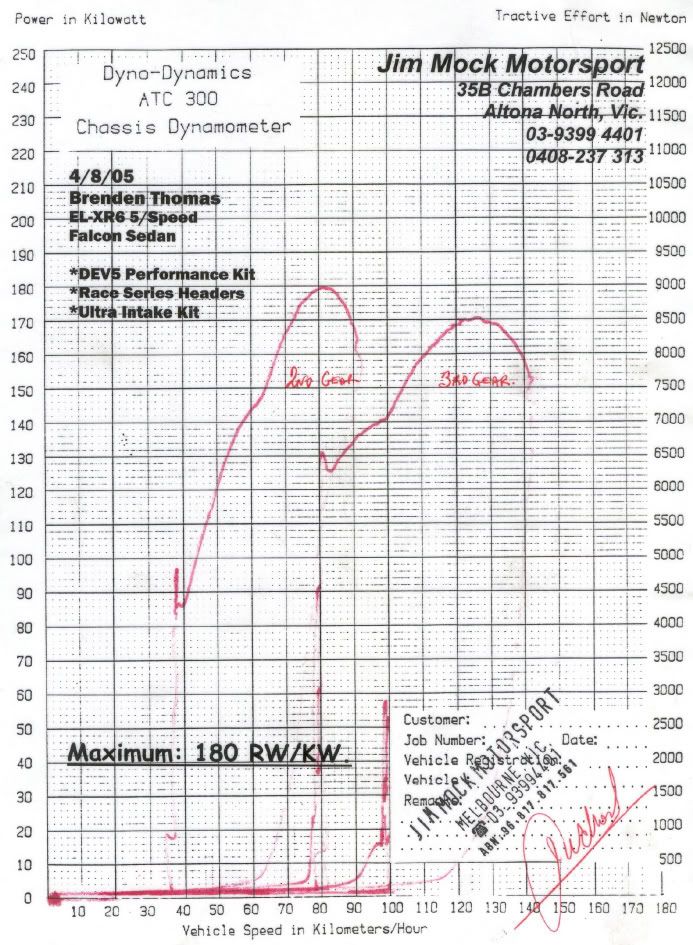 It's my understanding that dynos should be done in 4th gear at a 1:1 ratio ...so why is this dyno sheet only showing 2nd & 3rd gear?
Is this a 'BODGY' dyno figure?
ANYWAY ...ON TO MY REAL TOPIC
!
I'm getting Barry from Battens Performance Tuning (BPT) to install the SCT Eliminator Flash chip on my EL this week, along with a true 4th gear custom dyno tune ...which will be part of my ECU reprogramming / flashing..
As I am a complete ignoramus of the whole dyno tuning process ...I just wanted to know the following:
1.
Will the custom dyno tuning in 4th gear potentially
rob
me of power if the DEV 5 set-up is supposedly giving me most power in earlier gears?
2.
Will the custom ECU flash & dyno tune mean that Barry can tune / adjust / correct the following?
a) Engine idle speed to smooth out / correct for lumpy cams
b) Idle with AC on
c) Fan temperature switching control
d) Speed & Rev limiters
e) A/F ratios & spark timing
f) **anything else I should get him to look at?**
3.
What sort of end result should I get in terms of power, response, smoothness & driveability?
Sorry to ask all these questions, but I just wanna get the most out of my flash & tune!
As I said, I'm a complete novice when it comes to the how's and why's of ECU Flashing & Dyno tuning ...so any responses / advice would be REALLY appreciated!!!
Cheers.
_________________
Hot Chilli Red EL XR6, 5-spd, JMM DEV 5 enhanced (161 rwkw custom tuned), Eliminator Switch Chip, 18" BA GTP rims, Pedders Superlows, BA XR6 badges, BA Sunroof, Pioneer Stereo, Splits, 6x9's, 10" sub, 700W 6-ch Viper amp.
QUARTER MILE PB: currently 14.590 @ 96.00 mph ...BOOST AHEAD!!