I posted this on AFF but there will be people here who remember this car.
For those new to the story back in 2004 I bought an ex taxi AU from a base station in Syney. It had 749XXX k's. Shortly after that I bought a SNORT performance stage 5 turbo kit - Manifold, wastegate, 600hp turbo etc... and fitted it at home with the help of this forum. I then got it running and boosting on LPG with the help of this forum. That was at about 790xxx K's
Shortly after I fitted the gear without any tuning the taxi motor died. I fitted a new motor but without tuning it was on its last legs when I drove it to QLD to take it to Goldies workshop at Southport to do a one day engine swap/turbo fitting (it took 12 hours!). I drove it stright from the workshop to chiptorque to get the chip fitted to retard timing etc..
OK so picking up where the story left off two years ago, I had fitted a new motor (50k or so), and had a J3 chip added with retarted timing maps, IIRC that was in January of 2007? Since then the car has been pressed into regular duty, shopping trolley, kiddy transport to ballet, the pool etc... It has even towed motorcycles from Melbourne back to Dubbo via the Hawkesbury. Its had a lot of normal use.
After the work in janury 2007 (motor and ECU) I kept meaning to get it on a dyno but was just busy with life and kids and for a couple of years the nearest dyno was in Orange, 230 k's from me.
Then I lost a chunk of intake manifold gasket so boost was leaking and therefore it was pointless getting it dynoed.
A couple of weeks ago I got all the manifold issues sorted.
My partner is away visiting freinds at the moment with the XR6T so I am driving the taxi to work. I had heard there was a new mechanical shop in Dubbo called MR HDT who had the latest Dyno Dynamics gear with weather referencing and all the bells and whistles.
I needed to know my tune was safe, it has seemed OK for the last two years, but had never been tested.
I called them this afternoon and he said to bring it in in 1/2 and hour and he would give it a run. So I went up there.
I explained how last run was a dissapointing 161.7rwkw with no tuning to the ecu and detonation. I said to them as I have said here many times, "I think it would have to be closer to 180rwkw - 200rwkw now, it feels heaps faster"
So we get it up on the dyno with 8psi and pull 4 runs.............................................. .................................................. .................................................. .................................................. ............
Peak power run was 244.6rwkw
We did 4 runs in total and the ones you see below are the consistent ones (he said that the box had tried to kick down in the 244.6rwkw run, and that consistent runs were more truthful)
and this is what we are left with.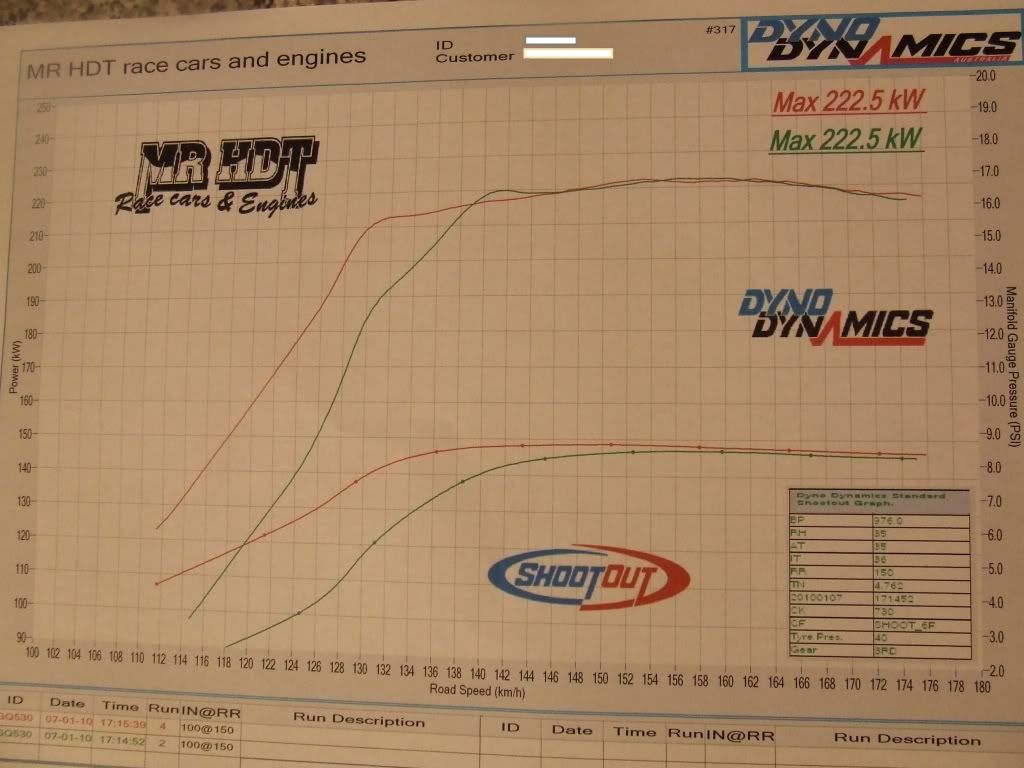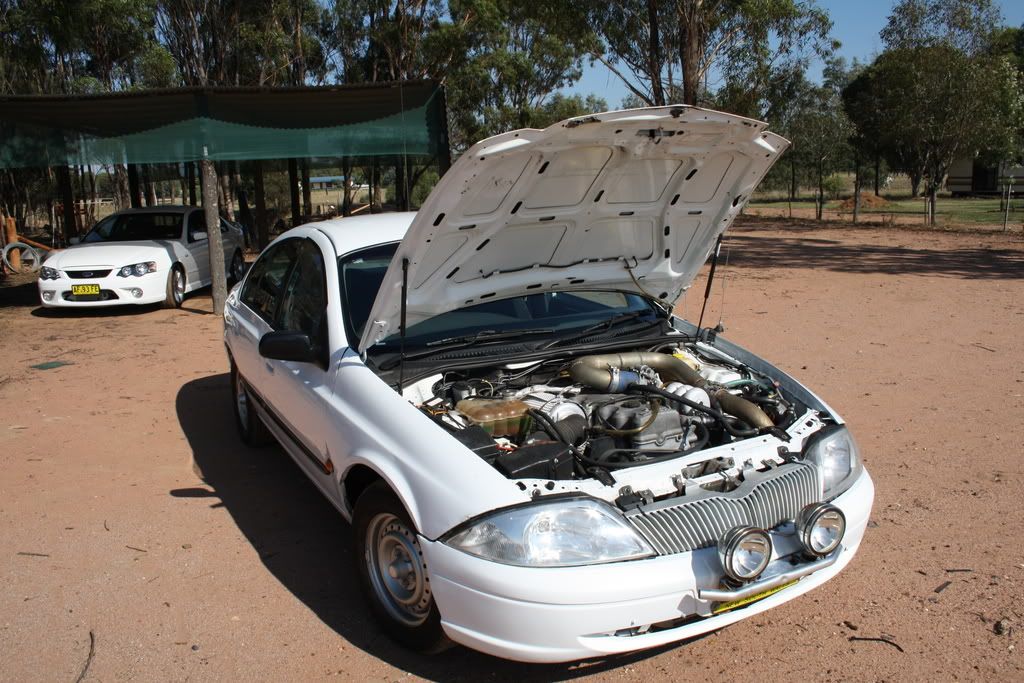 So as you can imagine, everyone was a little surprised. So I guess this shows that the ring mixer landi renzo set up can yeild good results, that the standard unopened engine doesnt hate boost, that you can do it backyard style with forum assistance, and the SNORT hardware is long wearning (over 70,000k's now)
I knew that thing was going fast!
__________________
_________________
Turbo AU falcon LPG 222.5 RWKW.
BAMKII XR6T with SVI - the first one!.
CR500E - Road registered CR500
VF1000R Mid 80's racer built as a HMP special
T88 Turbo XT Falcon with 351 Cleveland (mothballed)